Discovering New Zealand on a Tailor-Made Journey
---
Ask a New Zealander about the origins of his or her island nation, and chances are the narrative will start with a reference to Gondwanaland – the supercontinent from which it broke off some 85 million years ago. After you have been in New Zealand a couple of days, you understand why its genesis is still top of mind.  The country is so primal, so resplendent with towering tree ferns, gushing waterfalls, broad, uninhabited beaches, bubbling mudpots, hissing geysers, and craggy glaciers, that in some ways, it seems truly pre-historic.
Experiencing New Zealand's scenic wonders ranked high our travel wish list. But planning our own vacation there was pretty daunting, even for seasoned travelers like Larry and me.  So, we called the experts at Smithsonian Journeys Tailor-Made Journeys by Audley Travel, and straightaway we were connected with Alison Hennessy, the Country Specialist for New Zealand.
We described our ideal tailor-made journey: a self-drive tour that included 'tramping' (NZ lingo for hiking) on legendary trails, across beaches and alps, along with soft beds, great food, and fine sauvignon blancs.  And no bungee-jumping thank you.
A few days after our first conversation, Alison sent us a tantalizing first itinerary.  She had listened closely and as a result, our dream vacation was beginning to materialize!  Once we'd settled on all the fine points, we received a thick, customized travel dossier, with a detailed itinerary, confirmed accommodations, and countless tips on how to enjoy our New Zealand vacation to the fullest. This handsome portfolio became our constant companion, along with a driving atlas that we received upon arrival. Smithsonian Tailor-Made Journeys by Audley Travel assured us of a worry-free framework for our vacation – now we could relax and make our own discoveries en route!
So what were some of those discoveries?  Well first, and unexpectedly, it was the birds. As Captain James Cook noted on his arrival back in the 1770s, the sound of birdsong in New Zealand was nearly deafening.  Though their ranks have been somewhat thinned by man since Cook's time, our arrival in Nelson on the South Island was heralded by the sonorous, multi-syllabic calls of bellbirds, fantails, New Zealand robins, and tui, and other species that aren't found anywhere else in the world.  We were instantly spellbound.
New Zealanders, we also discovered, are immensely proud of their Great Walks, and on Christmas day, with over 14 hours of sunlight, we hiked alongside genial Kiwis on the spectacular Abel Tasman Coast Track. Late in the afternoon, we descended a steep side trail to one of several beautiful beaches we glimpsed along the way. Taking off our hiking boots, we cradled our tired arches in fine sand, and waded far out into the low tide.  On the spot, we crowned New Zealand as the most beautiful place we'd ever visited.
From Abel Tasman, Alison routed us south along Route 6 to Punakaiki, famous for its unique Pancake Rocks.  According to New Zealand's Department of Conservation, Pancake Rocks formed 30 million years ago from the remains of sea creatures and plants that gradually solidified into thin, stacked, layers of limestone. Erosion caused by crashing waves sculpted the rocks into truly quirky formations.  We joined other travelers on a walkway out to the brink of towering cliffs.  The roaring waves, bursts of salt spray, and the marvel of plants that thrive in such conditions were vivid examples of New Zealand's wild, primal force.
What could be even more dramatic?  Franz Josef, a gargantuan glacier, upped the ante a bit. Descending from New Zealand's Southern Alps less than 1000 feet above sea level, the glacier spews gritty, roiling meltwater from its base, cutting an icy path through the dense greenery of a temperate rainforest.  The contrast was astounding. We were grateful that Alison had arranged a terrific guide to help us make sense of the complex geological and climatic panorama we witnessed.
A day later, we arrived at picture-perfect Queenstown, where we spent an evening at a hotel called The Dairy, so named because it was once one.  We were greeted by a strapping, apron-clad chap named Matt who hoisted our luggage and ushered us into sumptuous library to check in. Turns out, Matt is also The Dairy's owner, a wizard who it seems can do almost anything related to hospitality, including obtaining a reservation at Fishbone, a top-rated restaurant, at the very last minute. 
We relaxed with fresh green-lipped mussels and delicious clam linguini, toasting New Zealand's bounty with a memorable bottle of Cloudy Bay.  Tomorrow, we'd continue southwards to discover the wonders of Milford Sound.
Editor's Note: Let Smithsonian Tailor-Made Journeys by Audley Travel plan your next private trip. Click here to learn more!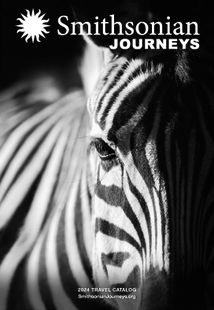 Request a Free Catalog
Download now to find inspiration for your next journey
Get It Free!
Be the First to Know
Sign up to learn more about our tours and special offers
Sign Up