Suarez Point: An Unforgettable Spectacle
---

The Galapagos, a veritable relaxation station for animals and humans alike
Our last stop in the Galapagos: the island of Española, home to albatrosses and iguanas, to sea turtles in the surf, to Darwin's finches, lava lizards, and blue-footed boobies. 
After our customary gourmet breakfast aboard the Coral II, we departed for a zodiac cruise around the small offshore islet of Gardner, poking into sea caves and delighting in the sea lion pups swimming back and forth below us in the clear waters of the cove.  Then we landed at Española's Gardner Bay, on a sugary white sand beach studded with sea lions.  Two of the most disparate of Darwin's finches, the grosbeak-like Large Cactus Finch and the delicate Warbler Finch, foraged side-by-side along the strand, neatly reinforcing our discussions about the evolution of these extraordinary birds.  Most of us took advantage of one last snorkeling opportunity, and were rewarded with close-up views of stunning King Angelfish swimming among glittering schools of wrasses and surgeonfish.  Just as we were starting to feel a bit chilled, it was time to return to the Coral II for lunch and one last lecture (an overview of bird courtship and mating behavior, with special emphasis on my field research on the spectacular cock-of-the-rock).
As the Coral II repositioned to the western tip of Española, most of us enjoyed a well-earned if brief siesta, and awoke as we anchored at the landing for Suarez Point, one of the most celebrated destinations in the Galapagos.  This is the nesting site for virtually the entire world population of Waved Albatrosses.  Our visit happened to coincide with high tide, and our dry landing only barely lived up to its name as we scurried to higher ground, closely observed by colorful Sally Lightfoot crabs clinging to the wave-washed rocks.  Once on the beach, we had to pick our way carefully through the dozing sea lions and the heaps of marine iguanas, Darwin's "imps of darkness," sunning themselves on the sand.

A colorful Sally Lightfoot crab
The hike to Suarez Point is not long, but it requires full attention to the rock-strewn path.  On the way, we were treated to the sight of a Galapagos Hawk incubating at its nest atop a boulder, and were constantly attended by the bold and curious Hood Mockingbirds that are unique to Española (formerly known as Hood Island).  At about the halfway point, the thick brush opened up at the "Albatross Airport," an open area used for landings by the Waved Albatross.  We stopped to watch the albatrosses make pass after pass, searching for that precise combination of airspeed and unobstructed landing strip that would allow them to come in for a frantically flapping and staggering landing.  So supremely graceful in the air, albatrosses fully live up to their "gooney bird" nickname as they come to earth.
Soon we reached Suarez Point itself, a high bluff that drops precipitously into the Pacific.  What a breathtaking place!  Albatrosses soared past at eye level, gangs of shining white Red-billed Tropicbirds swirled around and around in noisy courtship flights, Blue-footed and Nazca Boobies perched sleepily on every rock, mockingbirds hopped around our feet, and far below the Pacific waves crashed at the base of the jagged lava cliffs.  It was an unforgettable spectacle, and we all took ample time to relax and drink it in.  Eventually, however, we resumed our hike, knowing that there were plenty more sights still in store.  These included a pair of albatrosses engaging in their elaborate and rather comical greeting display right in the middle of the trail; and a magnificent blowhole that filled the air with sparkling spray.  The return walk also gave us our best views of Blue-footed Boobies, as several were standing next to the trail, their famous feet available for close inspection.

A pair of Blue-footed Boobies
Back aboard the Coral II, we toasted our adventure and enjoyed one last memorable dinner aboard.  The next day would bring us back to Baltra and our return flight to Quito, where more cultural treasures awaited.  There is no doubt that among all the spectacular days we enjoyed on this expedition, our day on Española will always hold a special place in our memories – the day we most fully experienced the wonders of the Galapagos.
Want to see the spectacle for yourself? Travel to Machu Picchu and the Galapagos with us!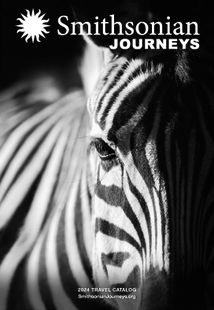 Request a Free Catalog
Download now to find inspiration for your next journey
Get It Free!
Be the First to Know
Sign up to learn more about our tours and special offers
Sign Up