Meeting the Friendly People of Kerala
---
As the sun rose, our luxurious cruise ship, the Azamara Journey, glided into the harbor at Kochi, also known as Cochin, one of South India's most intriguing port cities. Here we were treated to a special day full of the warm hospitality and friendly smiles of the people of Kerala, India's most lush and verdant state. With their engaging demeanor, the people of Kerala reflect their ancient history of welcoming travelers and traders from all over the world.

Credit: Doranne Jacobson.
From our cruise ship, we had several options for land excursions. Some chose to tour the old section of the city, visiting the historic palace with antique murals, the street on which a centuries-old synagogue stands, a spice market, and the oldest European church in India. They also viewed the picturesque Chinese fishing nets, introduced half a millennium ago by Portuguese explorers who had learned of them in Macau. Some of us chose to join a tour to Vaikom, a more rustic area about an hour southeast of Kochi.
Led by enthusiastic guides, we rode a comfortable air-conditioned bus through areas shaded by lovely palm trees. To refresh ourselves, we were invited into the gracious private home of one of our guides. We strolled to an adjacent market to meet a friendly oil-presser and a jeweler, and to buy bananas. Later, we fed the bananas to an appreciative elephant.

Friendly worshipers of Mahadeva. Credit: Doranne Jacobson.
I knew that Vaikom was famous for a large Hindu temple dedicated to Lord Shiva and asked the guides if we could include the temple in our itinerary. They agreed, and soon we were ushered into the precincts of the historic Mahadeva temple, where friendly worshipers welcomed us. One older couple was especially pleased to meet us, since their son works in an internet technology firm in Chicago.
The main focus of our tour was Kulasekhara Mangalam village, set in a lush green forest. We were welcomed by drummers and driven in auto-rickshaws down narrow wooded lanes to meet the waiting villagers. The villagers proudly showed us their skills in weaving palm thatch, twisting coconut husk fiber into sturdy rope, shaping earthen pots, and winnowing and pounding rice. We were offered the milk of fresh coconuts–or soft drinks, if we preferred. We also stopped to watch the weaving of khadi, homespun cotton cloth favored by Mahatma Gandhi as part of India's self-reliant heritage. The entire tour was very pleasant, but perhaps most delightful were the charming local children and young people who gathered around us. Most of them spoke excellent English and evinced friendly curiosity about their foreign visitors. Their bright eyes and happy faces made us feel as if we were among good friends here in this attractive corner of India.

Dynamic Kathakali performers. Credit: Doranne Jacobson.
Later that evening, all of us on the cruise were invited to a special evening on the grounds of the beautiful Vivanta by Taj-Malabar Hotel in Kochi. An elephant adorned in gold welcomed us to the event, and an astrologer, henna artists, and local delicacies were available to us as the sun set over the harbor. Then we were privileged to witness a sampling of some of Kerala's unique performing arts. Most dramatic was Kathakali, performed by elaborately painted and costumed dancers enacting an episode from Hindu scripture. Lovely young women in white and gold performed graceful classical dances from the Mohiniattam tradition. To close out the evening, young men clad in red displayed martial arts, and a scarlet-painted Theyyam dancer evoked auspicious Hindu deities. Overall, the scent of jasmine permeated the warm evening air.
Sweet memories of the vibrant and charming people of Kerala followed us as we returned to our cruise ship and sailed to Mumbai, our next port of call.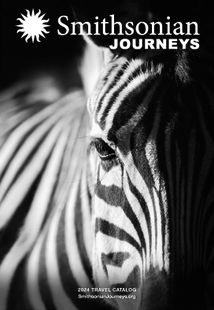 Request a Free Catalog
Download now to find inspiration for your next journey
Get It Free!
Be the First to Know
Sign up to learn more about our tours and special offers
Sign Up