A Q&A with Expert Preston Scott
---
Q: What motivated you to become involved with the Royal Government of Bhutan? How has your personal connection with the country deepened over time?
A: I was first approached by the Royal Government of Bhutan in 1998 to work on a host of environmental law issues relating to genetic resource management. This happened because of a talk I had been invited to deliver at a UN conference in France about these issues and how they could impact biodiversity conservation strategies worldwide—something of great interest to Bhutan (which is sometimes referred to regionally as the "land of medicinal plants"). My work with Bhutan expanded to include some cultural issues, too; and that work ultimately led to development of the Bhutan program at the 2008 Smithsonian Folklife Festival in Washington, which was the largest celebration of Bhutanese life and culture ever hosted outside the kingdom. Such a broad range of professional projects with Bhutan over time has allowed me the privilege of meeting and becoming friends with many, many people from all walks of life from Bhutanese society—friendships that continue to grow.
Q: How do the Bhutanese maintain the purity of their culture amidst a rapidly changing world, especially given their proximity to fast-growing and changing China and India?
A: The Bhutanese recognize that change is the one constant in life. Accordingly, they do not approach their opening to the outside world—and the challenges as well as opportunities that presents—statically. As they have done for centuries, they are interested in incorporating positive elements from the outside that might improve the quality of life for the people of Bhutan, while continuing to nurture their rich cultural life as with any dynamic living thing.
Q: Owing to Bhutan's mountainous terrain, its population is somewhat fragmented, with separate communities residing in the country's many valleys. What roles have the dzong fortresses played in maintaining connections between valleys and promoting unified values across Bhutan? 
A : The dzongs were enormously important in unifying Bhutan in the 17th century, when most of the dzongs were first constructed. As architecturally prominent centers of both political and monastic life in each of the major valleys, they also provided a significant focus for local community life, too. Today, the dzongs still remain in use as local administrative focal points and still provide powerful symbols of Bhutan's unification and independence (the tour will have the opportunity to visit many of the most magnificent dzongs in western Bhutan). Without doubt, however, the new contemporary great "connector" throughout Bhutan is the cell phone.
Q: One of the first stops on our tour will be the Memorial Chorten in the capital city, Thimphu. What types of religious activities take place in this sacred monument?
A: The Memorial Chorten in Thimphu was built in 1974 in memory of the Third King of Bhutan, HM Jigme Dorje Wangchuck, just two years after his death. The complex represents the three pillars of Buddhism (Word, Body, and Mind of Buddha) in accordance with His Majesty's wishes. The site is frequented by Bhutanese of all ages who walk around it (clockwise direction only) reciting prayers and spinning prayer wheels as part of their daily rituals.
Q: What cultural treasures might our travelers discover on their visit to the National Museum? 
A: The National Museum contains artifacts from the earliest times of human settlement in what is now Bhutan to contemporary life in the kingdom. There are especially important collections of Buddhist thangkas (paintings) and sculpture, as well as some items that belonged to important figures in Bhutan's history. However, the building itself is a cultural treasure: built in the mid-17th century as a watchtower resembling the shape of a round shell on a high hill overlooking the dzong and Paro valley below.
Q: How is Gross National Happiness measured? How does this concept of wealth tie in with Bhutan's foundation in Buddhism?
A: One approach towards measuring Gross National Happiness (GNH) is by monitoring various social statistical indicators that include but are not limited to murder and other rates of crime; infant and other rates of mortality and morbidity; numbers of suicides and other stress-related illnesses; and equitable access to land, water, food and medicine; and literacy. However, while the impulse to try to "measure" happiness in Bhutan (or anyplace for that matter) is important, it should not eclipse the value that the GNH concept plays in public life in Bhutan as the country tries to pursue a balanced path towards the future based on something more than economic metrics alone. GNH in Bhutan is discussed within the context of four important broad-based social values: Promotion of Health, Education, and Sustainable Economic Opportunity; Protection of the Environment; Preservation of Cultural Heritage; and, Good Governance. These themes are used by the Bhutanese when they evaluate the pros and cons of many policy decisions they are facing, and help focus debate on what it takes to create and maintain a good society. While reflecting a profound respect for social harmony and well-being rooted in Buddhist values, they also reflect some important themes in serious political thought that go back at least as far as the ancient Greeks. In this context, it should be recalled that the Declaration of Independence drafted by Thomas Jefferson also commences with the observation that a principal legitimate purpose of government is protection of "life, liberty, and the pursuit of happiness"—something worth thinking about!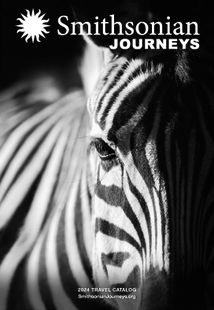 Request a Free Catalog
Download now to find inspiration for your next journey
Get It Free!
Be the First to Know
Sign up to learn more about our tours and special offers
Sign Up