A Q&A with Expert Patty Hostiuck
---
Smithsonian Journeys Program Manager Alice Stephens interviews Patty Hostiuck about her experience as a long-time Smithsonian Expert.
Q: Your upcoming trip with Smithsonian Journeys is a very unique, 39-night cruise down the entire west coast of South America. What do you consider the main attraction of such a long voyage? 


A: First, this is a rare chance to experience and learn about a large part of South America in comfort and style, focusing on both natural history and human history. Second, small ships like Clelia II are intimate and friendly, and longer trips make it easier for like-minded, curious travelers to get beyond small talk and forge lasting friendships with fellow guests and lecturers. In the lecture room (but also over dinner, coffee, or cocktails) we can expect lots of in-depth discussions of the peoples, places, and wildlife that we'll see. 


Q: There is an incredible diversity of landscape on this journey, from high desert to rain forest and from tiny, isolated islands to the majestic Andes. What kind of landscape do you feel the greatest affinity for?


A: All the landscapes that we'll experience are interesting in their own way, but I find the mountains, glaciers, and fjords of Patagonia the most captivatingly beautiful. Here you can witness the monumental sculpting of bygone Pleistocene glaciers on the resistant granitic rocks of the Chilean fjords. Thanks to the erosive power of these mighty ice masses, there are several places where you can sail across the Andes—at sea level. 


Q: Many ancient civilizations flourished on the western shores of South America and its outlying islands. Which civilization intrigues you the most?


A: The pre-Inca peoples of Peru built highly successful civilizations in the deserts adjoining the sea, capitalizing on the nutrient-rich desert soils irrigated by runoff from the Andes. There they grew cotton to not only weave fine textiles, but also to make fishing nets to harvest the abundant fish from the sea. It is mind-boggling to stand in this seemingly barren desert and yet realize the high density of archaeological sites which reveal that large populations were supported here.


Q: A vast array of birds, mammals, and sea life will be seen on this voyage. Is there a South American species that you have always wanted to see that has eluded you thus far?

 
A: Yes, I would like to see a southern right whale dolphin. This is a sleek and beautiful black-and-white creature that lacks a dorsal fin, and I have not yet been successful in seeing one. But I've been very fortunate in observing blue whales—the largest of all whales—along this coast. Bring your binoculars! 


Q: You lead several Smithsonian trips to the same areas year after year, which give our passengers the benefit of your in-depth knowledge. How do you keep interested in these destinations?

 
A: There's no end to what you can learn about a destination, so repeating one gives me the opportunity to continue developing my knowledge. For example, I have the freedom to spend more time learning about both the history and culture of a destination, which is of deep interest to me and of benefit to my guests. In addition, every destination changes with the times and seasons, which is fascinating to witness over many years. Finally, each new Smithsonian Journeys group brings new questions, viewpoints, and interests—so no two trips are ever alike. 


Q: In general, do you find Smithsonian groups to be different from other groups that you lead throughout the year?


A: Yes, I find Smithsonian groups to be the most inquisitive—deeply curious about each destination and eager to learn everything about it. They are generally very well-read and often widely-traveled and, due to their varied backgrounds, I always learn something new. I find they are excellent travel companions who take the inevitable minor inconveniences in stride, often with a healthy dose of humor. It has been my pleasure to travel again and again with a number of Smithsonian guests, building on our previous relationships.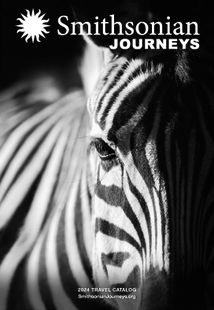 Request a Free Catalog
Download now to find inspiration for your next journey
Get It Free!
Be the First to Know
Sign up to learn more about our tours and special offers
Sign Up