A Q&A with Expert Kim Munholland
---
Q: You have written extensively on the subject of French-American relations in the 20th century. Which aspect or historical turning point of French-American relations do you find most fascinating and why? 


A: There are several moments in French-American relations that have caught my attention. Recently I have been working on the past 200 years of this relationship, beginning with the French assistance during the American War for Independence. This war produced a "Lafayette syndrome," in which Americans often define a special relationship that has existed between the two countries since Lafayette fought beside George Washington. Yet this positive outlook has often been challenged when American and French interests have diverged or have been marked by tension. On the positive side, there is an American fascination with French culture, from its intellectual life to its enjoyment of everyday pleasures. This is seen in the lives of American exiles, who have sought a second home in France, particularly Paris. At the same time there have been official, more political differences between the two countries that too often behave as "hostile allies." A key turning point was the direction of the relationship that developed after the French defeat of 1940 and the resulting wartime relations, particularly the differences between Charles de Gaulle and Franklin Roosevelt. This conflict was a central concern of my book, Rock of Contention: Free French and Americans at War in New Caledonia, 1940-1945. These wartime differences established a pattern that has marked French-American disagreements and misunderstandings ever since.


Q: You spent several years living in various areas of France. What aspects of la vie en France do you miss the most? 


A: There are many things to appreciate about France—monuments, cathedrals, the beauty of Paris itself, the variety of its regions and countryside. But the one thing that I most miss is the grace of everyday life—the pleasures of mealtimes and conversation, exploring the bookstores and galleries of Paris, experiencing the sounds and smells of Paris, moments of leisure and pleasure caught in the paintings of the Impressionists. We will no doubt experience such enjoyment when we take meals during our travels through the spectacular French countryside. What better place to indulge and savor the sensory pleasures of the French countryside than at Giverny, Claude Monet's garden that was his home, studio, and inspiration for his great masterpiece, les nymphéas or water lilies (now restored in the Orangeries in Paris). Monet not only created a world of color in his garden and on his canvasses, but his home at Giverny with its kitchen, dining room, and living space provides a strong sense of what middle-class leisure was like at the end of the 19th and beginning of the 20th centuries. One can understand how this way of life attracted an American colony of expatriate artists and writers. Our visit to Giverny will provide this marvelous impression of a graceful and civilized way of life to be found in France.


Q: An especially poignant day of this program will be spent visiting the D-Day landing beaches, the American cemetery overlooking Omaha Beach in Colleville, and Ste-Mere-Eglise, where the 82nd Airborne Division successfully parachuted on June 5, 1944. As an expert on Occupied France, please describe your first impressions when you visited these sites. 


A: Although I have visited the Normandy beaches, the cemetery, and memorial to the Allied landings many times, each time I am as awe-struck as I was on the first visit several years ago. The site itself is dramatic, located above a now tranquil Omaha beach that was so bloody on June 6, 1944. There are many American cemeteries and memorials in France, dating back to the first world war, but this one captures in a deeply moving way the sacrifices of so many American soldiers who came to France to fight a just cause but never returned home. Recent improvements to the site allow visitors to approach the cemetery from the cliff above the beach, giving added drama to the experience. In addition, we will have the opportunity to compare the invasion of 1944 with the Norman invasion of England in 1066 when we visit the Bayeux Tapestry, one of the great works of medieval art. Separated by nearly nine centuries, the museum at Omaha beach and the preserved tapestry both recount tales of bravery, sacrifice, and determination. Miraculously, the Bayeux Cathedral was spared by the Allied bombings in preparation for the D-Day landings. And Bayeux was the town that received General de Gaulle on his return to French soil only one week after D-Day, to assert his authority and begin the process of restoring a democratic France after four years of occupation.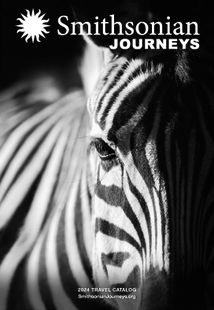 Request a Free Catalog
Download now to find inspiration for your next journey
Get It Free!
Be the First to Know
Sign up to learn more about our tours and special offers
Sign Up