A Q&A with Expert John Dobbins
---
Q: You have a Ph.D. in Classical Art and Archaeology and you specialize in ancient Roman art, archaeology, and architecture. What first led to your interest in the history of Italian art and architecture?
A: Corny as it may sound, my high-school Latin studies provided my first serious encounter with Italy. Further study in college opened my eyes to Ancient, Medieval, Renaissance, and Baroque Italy. My first visit to Italy was a celebration. A close college friend had returned from Vietnam and each of us was about to begin graduate studies. We seized the day and went to Italy to celebrate life. There is no better place for such a celebration! My relationship with Rome and Italy was cemented. But Fate works strangely. My summers in graduate school were spent on the banks of the Euphrates River as a member of an American excavation in Syria. I thought that I would become a Roman frontier archaeologist in the East, but Fate declared otherwise. I was asked to direct the excavation of a Roman villa in Tuscany. The rest is, as they say, history! I have excavated in Sicily (at Morgantina), and I am now the director of the Pompeii Forum Project. I am delighted that our trip will take us to Pompeii.
Q: Italy did not become a unified country until relatively recently, in 1861, and regional differences in culture, traditions, architecture, and cuisine remain very pronounced. This special Smithsonian journey covers extensive historical and geographical ground, traveling through several of Italy's twenty regions: Campania, Lazio, Umbria, Marche, Tuscany, Emilia-Romagna, and Veneto. What kinds of artistic, cultural, architectural, and gustatory differences can Smithsonian travelers look forward to discovering in the course of the journey?
A: An excellent question. I will focus on Campania, Rome (in Lazio), and Tuscany and discuss landscape and food.
First, the landscape.
Campagnia and Amalfi
The sheer cliffs of the Amalfi Coast, the blue sea, the view to nearby Capri, and the crescent shape of the Bay of Naples with the looming and still-active Vesuvius offer incomparable and unforgettable images. Nature is a major player in Campania and we are fortunate to start our journey there.
Rome
One can see the Alban Hills that surround Rome on clear May days, but what one sees in Rome is ROME! Stand with me on Rome's historical fulcrum, the Capitoline Hill, where the Piazza del Campidoglio designed by Michelangelo allows us to place Rome, its history, and its architectural presentation into a broad context. We first examine the piazza itself. Then we look down at Rome's ancient center, the Roman Forum, and at the Palatine Hill where Romulus and the later Roman emperors lived. Next we turn around 180 degrees and look at the New Rome, the Rome of the Popes, where the domes of churches, including St. Peter's, dominate the skyline. From that position we draw it all together: ancient Rome, Renaissance and Baroque Rome, and the modern city flowing vivaciously below us!
Tuscany (ah, la bella Toscana)
Sometimes as I drive through the beautiful rolling hills of Virginia I fantasize that I am back in Tuscany. Tuscany's profound beauty is not that of the dramatic Amalfi Coast, but it is another pocket of Italy where Nature has created something special. The hills and folds in the landscape create a chiaroscuro of painterly effects that remind one of Renaissance paintings. We will witness many shades of green as spring blossoms in Tuscany. Tuscany is far too beautiful for me to attempt a description!
Second, the culture/art/architecture/food!
Books are written on these subjects. Let's just focus on food and stick to the three locations treated above.
Campania
Seafood is king and we will delight in revisiting favorite dishes, or better yet, making discoveries anew for first-timers. Simple is good and in all of Italy, but especially here, a caprese salad is one of the most wholesome and refreshing lunches on the planet. Four ingredients: mozzarella, basil, tomatoes, and olive oil. The secret is the mozzarella di bufala — mozzarella made from water buffalo milk. Gnocci are thick, soft, small (knuckle-sized) potato dumplings served in a tomato sauce. Gnocchi alla Sorrentina (google it!) are wonderful and I look forward to a plate as a primo piato (first course). Or just alone as lunch with a salad. And finally comes limoncello, the lemon-based liquor that is typically offered after dinner as a gesture of appreciation from the host/restauranteur to the diners. The gesture is sweet and is pure Campania.
Rome
Somewhere it must be said that you can't go wrong with a pizza in Italy. Naples is supposedly the best. I like eating pizza in Rome…and ice cream. A very typical Rome dinner is saltimbocca alla Romana (veal prepared with prosciutto and sage). The Italian language is so expressive — saltimbocca means "it jumps into your mouth." Ah, but then there are the carciofi — artichokes. Swoon. And the Romans swoon over baccala, cod.
Tuscany
In the marketplace in Florence we will encounter a bronze statue of a boar. That is significant! Meat is king in Tuscany. This does not mean that the people in Tuscany don't eat simply, but when one wants a celebratory meal, it is not vegan. Here are four possibilities to reflect on (and to google) as we anticipate our trip: pappardelle (a wide pasta) with wild boar sauce (doesn't that sound yummy?); bistecca fiorentina–Florentine steak–for meat lovers; ossobucco–veal shank. And there is also pasta fagioli–pasta with beans — wonderful!
Q: Pompeii was devastated by the eruption of Mt. Vesuvius in A.D. 79. As director of the Pompeii Forum Project and co-editor of the book, The World of Pompeii, that treats all aspects of Pompeian life, what do you recommend that our Smithsonian travelers look for and focus on during their time in Pompeii?
A: The first and most important thing to accept is that Pompeii is not a small archaeological site. It is a city! Much of it is closed off to tourists, but you can still get a very keen sense that this was a big place, a living place where people lived their lives in public spaces, religious spaces, and domestic spaces. Follow the streets and discover where they lead. This is a city! Experience it! My presentation on reading a Roman city will focus on Pompeii.
Q: In Rome, Smithsonian travelers can look forward to exploring the Colosseum, the Pantheon, and the Vatican, including St. Peter's Square and Basilica, and the Sistine Chapel. Completed in A.D. 80, the Colosseum in particular provides a unique glimpse into ancient life in the "Eternal City." What do you hope Smithsonian travelers will take away from their visit there?
A: Let's put our cards on the table. Rome is my favorite city! The evocation of Rome as the "Eternal City" is key. The most resonant experience for an American in Rome is the city's multilayered nature. That is not our experience in the United States. We are too young! Old hand or first-timer, no matter, Rome's multilayered history hits us right between the eyes. I am struck every time. I will offer a complex reading of the Colosseum in one of my presentations. On the following day we will visit the Colosseum itself. My hope is that we can understand the Colosseum as a complex monument whose function may be repugnant, but that (love it or hate it) we can understand it, and appreciate it within its cultural, historical, topographical, architectural, and functional (in many senses) contexts. The Colosseum does not need to be a touchstone for one's visit to Rome. It is simultaneously splendid and distasteful, and I am very straightforward about my conflicted views of the Colosseum. Then that afternoon is free. May I propose that those interested literally go down into Rome's layered history with me? San Clemente, not far from the Colosseum, will take us through four layers of Roman history and will make a lasting impression on your visit if you have not been there before.
Q: The region of Tuscany holds a special place in people's imagination, and makes frequent appearances in contemporary culture, books, and films. Smithsonian travelers will have the opportunity to explore different aspects of this breathtaking region. As the origin of the Italian Renaissance, the time spent in Tuscany will provide insights into Italy's artistic and cultural legacy. What should travelers look for in Tuscany?
A: Embrace Tuscany however it presents itself. In all cases we will look closely so that we can see special sights/sites. In Tuscany we might focus on three things. The first is the landscape. Except where quarries and modern roads have marred nature the landscape of Tuscany is spectacular. Look out the window! Force yourself to stay awake on the bus! The second is the individual feeling of each city. I will not tell you — no, you tell me how Siena, Florence, and San Gimignano differ from one another. That exercise amounts to an explanation of Tuscany. And third, and related to the second, is the architecture and art. The Renaissance (meaning "rebirth") saw the rebirth of something. That "something" was the ancient world that we will have seen in Rome. Apart from the specific message (Old Testament theme, or Gospel message) what are the Renaissance painters achieving in their paintings? You do not need to be an art historian. Jettison the history. Simply, what do the painters in Siena, Florence, and Venice achieve? How do you respond to it?
Q: The grand finale of this Smithsonian journey is Venice. Venice's art, architecture, and music are legendary and enduring. As an art history expert, what aspect of Venice's illustrious art and cultural history fascinates you most?
A: Venice is magical because Venice is all about light, architectural forms, and water. Nothing more needs to be said — we just need to keep our eyes open for splendor at every turn, but a couple of specifics might be offered. The Doge's Palace next to San Marco is a splendid example of weightless architecture. The light and airy lower arcades support a more solid third story, but that level appears to be more a tapestry structure than a masonry one. During your stay, you'll see the Ca'd'Oro and other buildings along the canals, which dance at the water's edge.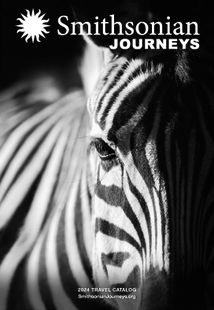 Request a Free Catalog
Download now to find inspiration for your next journey
Get It Free!
Be the First to Know
Sign up to learn more about our tours and special offers
Sign Up