A Q&A with Expert Don Wilson
---
Q: The African Safari program offers an exciting adventure for Smithsonian travelers who'd like to discover magnificent wildlife and incredible landscapes. As Curator Emeritus of Mammals at the Smithsonian's National Museum of Natural History and former Director of the Smithsonian's Biodiversity Programs, what would you encourage Smithsonian travelers to have foremost in mind about the ecosystems and wildlife they'll explore on this special journey?
A: This safari is so good that it will meet their expectations, no matter what they are. Most people go to Africa for the first time wanting to see the Big Five: lions, leopards, elephants, rhinos and buffalo. We do our level best to find all of those, and so much more. I think the people who get the most out of the trip are able to look beyond the big things, and enjoy the incredible diversity of mammals and birds that we encounter on this trip. We get a look at three pretty distinctive areas on this trip, and even if travelers have already visited East Africa, they will find this Southern Africa Safari quite different. The landscapes are quite varied, and although some of the animals will be familiar, there are so many different species that a second visit to Africa is almost as special as the first.
Q: In March 2010, the Smithsonian celebrated its 100th anniversary on the National Mall with the opening of a new exhibition hall, the David H. Koch Hall of Human Origins, an interactive exhibit through 6 million years of scientific evidence for human origins. Human origins is one of the topics that you explore with Smithsonian travelers in your lectures on the African Safari program. What common threads would you highlight between the exhibit at the Smithsonian and what Smithsonian Journeys travelers will discover on this journey?
A: Our own species, Homo sapiens traces its roots back to the African Continent, so this trip is a journey home, in an evolutionary sense. Some of the very earliest finds of early man fossils were in South Africa, not far from Johannesberg, where we begin and end our trip. Recent years have seen many new fossils found from various places on the continent, greatly expanding our understanding of our ancestors. I love exploring this topic "on-site,"so to speak, and now with the fabulous new exhibit at the Natural History Museum, it is possible for folks to get even more information either before or after the trip. We have a natural curiosity about this topic, and although it can be a bit difficult to understand it all at once, the exhibit provides a terrific extension to the chronology I provide in my lectures.
Q: The World Heritage site Victoria Falls in Zimbabwe, also known by its indigenous name of 'Mosi-oa-Tunya' (the 'Smoke that Thunders') is an area especially rich in wildlife. The April 2013 Smithsonian group that you will be leading will witness Victoria Falls at the peak of the river's annual rainy season and consequent flooding of the river. Does this peak time of year significantly change the wildlife traffic or the ecosystem of the river, falls, and surrounding jungle?
A: April is a wonderful time to visit Victoria Falls. With peak river flow, the falls are truly spectacular. We provide ponchos for our walk along the falls, as the spray can be an exhilarating experience. We do a wonderful bridge tour as well, and sometimes the spray even reaches as far as the bridge. This spray zone results in a unique rainforest that we walk through on our visit to the falls. The Park is also spectacular at this time of year, as the vegetation is incredibly green and lush. Our lodge is on a beautiful waterhole that attracts a variety of wildlife throughout the day, so folks can sit on their balcony and watch the daily parade. We do our first game drive here, so everything we see is new and exciting.
Q: On this journey, you and the Smithsonian travelers will explore Chobe National Park, Botswana's first national park. Chobe National park is probably best known for its spectacular elephant population, with an estimated 50,000 elephants -- possibly the highest elephant concentration in Africa, and part of the largest continuous surviving elephant population. What accounts for the immense and concentrated elephant population at Chobe?
A: Chobe is home to more elephants than just about any other park in Africa, but it is also the most diverse park in Botswana, which is saying a lot. It is a large park, so provides a wide variety of habitats. I think the key factor for the elephants is the Chobe River, which bisects the park, and provides a dry—season refuge for these amazing animals. In April, the elephants are dispersed throughout the park, taking advantage of the growing season to harvest huge amounts of forage. The areas we explore, both on land and on the river, yield some of the best elephant sightings anywhere, and we are able to get very up close and personal with them, from the safety of the vehicles and boats. Chobe is a non-stop wildlife extravaganza, with something new and different around every corner.
Q: What kind of wildlife can travelers look forward to observing on the night game drives on this journey?
A: We finish the safari at Lower Zambezi National Park in Zambia, another spectacular venue. One of the treats here is the opportunity to go out at night and look for nocturnal animals that we would otherwise miss on our daily game drives. We routinely see things like African porcupines and a variety of small carnivores called genets and civets that are only active at night. We also almost always increase our bird lists by going out at night. Things like owls and nightjars are much more likely to be seen at night. We also occasionally see a leopard on the prowl at night, and this is a very special experience. Leopards are one of the more difficult species to find, and the possibility of going out at night increases our chances if we haven't yet seen one on a daytime game drive.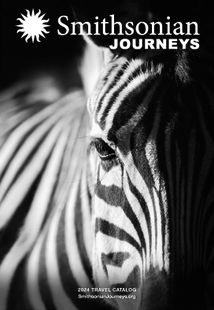 Request a Free Catalog
Download now to find inspiration for your next journey
Get It Free!
Be the First to Know
Sign up to learn more about our tours and special offers
Sign Up