A Q&A with Expert Bill Kloss
---
Q: On our Masterpieces of American Art tour, we'll be visiting not only amazing collections, but also bold, modern buildings that are themselves works of art. Can you give us a preview of the new Crystal Bridges Museum of Art in Bentonville, Arkansas and also the Nelson Atkins Museum's dramatic Bloch building that is woven harmoniously into the surrounding landscape of the Kansas City Sculpture Park?
A: Crystal Bridges promises to be one of the most striking new art museums in America in part because of its site in a beautiful wooded 120 acre tract in the Arkansas Ozarks. And because the renowned architect Moshe Safdie was commissioned to design the building to display the remarkable and growing collection. Safdie's design uses graceful curves to produce inclusive spaces that draw the building, the landscape, and the visitor together. His key invention, which partly inspired the name of the museum, was to use a bridge construction which honors the natural Crystal spring feeding into the ponds around the museum. Its many windows create an idyllic, serene marriage of building and landscape.
The new Bloch Building of the Nelson-Atkins Museum of Art is in marked contrast to Crystal Bridges. The original Nelson-Atkins is a landmark neoclassical building so Steven Holl, the distinguished architect chosen for the Bloch addition, respected the integrity of the original structure by adhering to rectilinear facades and deferred to it by situating his building on the sloping eastern edge of the museum grounds. Although this new extension connects with the museum's east end, and although it is 840 feet long, it is slender and its profile kept low by putting most of the building underground! So it appears as if five freestanding structures are emerging from the ground while stepping down the slope in the park that showcases the Nelson-Atkins. This park began as the formal green lawn extending from the main façade, but has evolved into an extensive year-round 22 acre public park, which is now called the Kansas City Sculpture Park. It's a collaboration between the museum, the city and a private foundation and has a fine collection of modern sculpture from Henry Moore to Claes Oldenburg. This newly achieved integration of museum and nature actually does echo, in an urban setting, the Crystal Bridges museum.
Q: What do you consider to be the highlights of each museum's collection of American Art? 
A: Let me start with the older, established museum, since the Nelson-Atkins has had nearly 80 years to accumulate its large, varied collections. American art was not its first objective, a remark applicable to most of our early museums or collectors that were not near the Atlantic seaboard, but it now has outstanding paintings from the Colonial era to the present day. There is an excellent pair of portraits by John Singleton Copley (John Barratt and Mrs. Barratt, c.1758) and a tour de force double portrait of Mr. and Mrs. John Coustance, 1778, by Benjamin West soon after his arrival in England from his native America. One of the most startling, amusing, and puzzling paintings is the widely-known Venus Rising from the Sea—A Deception, c.1822, by Raphaelle Peale, a work I will not even attempt to describe here! The museum is fortunate in having Thomas Cole's gentle pastoral landscape The Mill: Sunset, 1844, as well as a grand late landscape by Cole's disciple, the avid traveler Frederic Edwin Church, Jerusalem from the Mount of Olives, 1870. One does not expect to see one of Thomas Eakins's masterful full-length portraits here but we find his stoic, glowing Monsignor James P. Turner, c. 1906. One does expect to see paintings by Missouri artist George Caleb Bingham in the Nelson-Atkins and these two are his silent Fishing on the Mississippi, 1851, and his ever-relevant Canvassing for Votes, 1852. There are a great many fine early 20th-century American paintings in the museum, but I will happily settle for the imaginative and piquant masterpiece by Regionalist artist Thomas Hart Benton called Persephone, c.1938. The collection continues to the present day and these recent works are displayed in the Bloch Building.
Crystal Bridges is the creation of one collector-founder, Alice Walton. Well-prepared with the knowledge of a trained artist, the advice of informed art professionals, wide-ranging artistic interests, and family wealth, she has assembled a distinctive collection of American art in a remarkably short time. The early portrait tradition of America includes a fine Copley of Mrs.Theodore Atkinson, Jr., 1765, and an important Charles Willson Peale half-length of George Washington, c.1780-82, but it may be that its coup is the six early 18th-century portraits of the Levy-Franks family of New York, attributed to Gerardus Duyckinck, whose technical sophistication is rare in early America. Only occasionally exhibited over the years, they were acquired from the American Jewish Historical Society. A number of the works at Crystal Bridges were acquired from other institutions, including the New York Public Library, which parted with Samuel F. B. Morse's splendid, energetic life study of the Marquis de Lafayette, 1825, painted in preparation for the full-length portrait commissioned by the City of New York to honor the Revolutionary hero. Asher B. Durand's iconic masterpiece Kindred Spirits, 1849, in which Thomas Cole and William Cullen Bryant survey a Hudson Valley landscape, was also acquired from the Library.
Martin Johnson Heade made repeated trips to Brazil and painted many small radiant pictures of hummingbirds, and sixteen of these "Gems of Brazil" are together here. John Singer Sargent, famous society portraitist, had a quirky side that breathes life into his small painting of Robert Louis Stevenson and his Wife, 1885, in which the writer is "walking about in my own dining room," with an open door at the center and his wife nearly out of the picture. Among early 20th-century paintings is George Bellows's strikingly lovely The Studio, 1919. There is a fine Marsden Hartley, Hall of the Mountain King, c.1908-9, a group of five modernist paintings by Stuart Davis, and notable examples of another dozen or so significant artists. But I cannot resist another iconic American painting: Rosie the Riveter, 1943, by Norman Rockwell. Yes, it was destined for a wartime cover of The Saturday Evening Post but as an oil painting nearly 4.5 feet high it has unexpected power of invention and decisiveness. I must also call attention to the pictorial tapestry by Kara Walker, Warm Summer Evening in 1863, 2008, which in size (8 feet wide) and subject is a very bold, shocking, and memorable addition to the collection. Crystal Bridges will grow and evolve, but it is already a destination.
Q: Travelers will also have the opportunity to join you on our Dutch Masters in New York tour where they will see many treasures of the Dutch Golden Age. What factors do you think contributed to the amazing concentration of artistic talent that characterized 17th-century Holland?
A: Holland was a new nation founded in revolution against the Spanish who had controlled much of the Netherlands. Part of the conflict was against absolute monarch and his proxies. Another part was the rise of Protestantism in northern countries and a consequent revolt against the Catholic Church. Spain personified both. During the long war and after de facto independence the loss of much aristocratic and church patronage meant that most Dutch painters were required to rely on individual patrons—especially for portraits—or upon the marketplace for much of the rest. Holland became the most important mercantile power in Europe, and the Dutch art market became the most vibrant. Painting for the marketplace, Dutch painters therefore embraced subjects, such as landscape and still life, deemed less dignified in aristocratic cultures, and through their genius lifted them into the ranks of great art. Every aspect of life in this proud nation was thought worthy of the attention of the artist. As a tolerant nation in 17th-century Europe, Holland attracted many immigrants, many refugees. The increased population included a large influx of talented artists. These factors combined to create the extraordinary proliferation of well-trained artists, more in fact than the mercantile system could support. In mid-century Amsterdam there were more painters than bakers!
Q: Of the fewer than three dozen works by Vermeer still extant, travelers will see nine of them, including the iconic Girl with a Pearl Earring. It is often said that Vermeer's paintings were not highly regarded until many years after his death. Why did it take so long for scholars to recognize his work?
A: Actually, much of that is romantic myth. He was supported by a very few patrons who seem to have bought much of the little art he produced. He was a very deliberate painter with a very complex painting method and meticulous technique. Then the French wars against Holland ruined the economy and his livelihood, and soon he was dead at forty-three. In the next century he was not very well known outside of Holland but not entirely forgotten at home and by the early 19th-century some important works were recognized as his. His paintings were admired abroad but under other artists' names. Art scholarship, in the modern sense, begins in the second half of the 19th-century, and it was a French writer who brought international attention to the name and art of Vermeer in the 1860s. In sum it is a story of a great painter of few works who died young in a time of trouble and whose work became confused with that of others. His "rediscovery" came at a time when 17th-century Dutch painting was regaining and even surpassing its former fame. The rarity of his paintings contributed, then and now, to Vermeer's new glory.
Q: As an art historian, which of the Dutch artists of the Golden Age do you most admire?
A : Rembrandt leads my list, which should come as no surprise. In a country of specialists in subject matter, he was a painter of most subjects from still life to landscape to portraiture to genre to religious and mythological stories. He excelled in all of them, through superior imagination, superb technique, and a deep empathy with the human condition. He was also the first and surely the greatest artist to produce a very large body of etchings. "Admire" is too pale a verb: love passionately comes closer.
Vermeer must follow, though the comparison is meaningless because of the huge disparity in their total oeuvre. But he developed a mastery in emulating natural light with which he breathed life into a measured space of his own devising. He is mesmerizing.
Frans Hals is third. He painted portraits, almost nothing else, but he brought hundreds of his sitters to vivid life and he never repeated himself. And nobody has ever painted black with greater mastery.
The greatest landscape master was Jacob van Ruisdael who, although a specialist in that vast area, did not limit himself to any single type of landscape but tackled them all successfully.
Fortunately, there are dozens more Dutch artists who can take your breath away. And that leaves many dozens more to enjoy.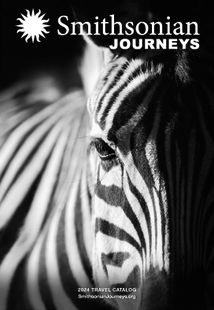 Request a Free Catalog
Download now to find inspiration for your next journey
Get It Free!
Be the First to Know
Sign up to learn more about our tours and special offers
Sign Up