The Taj Effect
---
"There are two kinds of people in the world. Those who have seen the Taj Mahal and love it and those who have not seen the Taj and love it." Truly this comment by former US President Bill Clinton sums up the magic and mystique of the Taj Mahal, perhaps one of the most beautiful buildings in the world. An ode to love, the deep abiding love of a King for his beloved Queen, the Taj Mahal is one of the most visited monuments in the world.
A symbol of everlasting love, the Taj Mahal figures high on the list of reasons why the travellers choose to come to India on the Smithsonian Journey's Mystical India trip. And surely, the Taj Mahal never disappoints. If anything, the Taj is even more beautiful than one had ever dreamt of. On every Mystical India Trip, I have watched our guests stand in the presence of this awe-inspiring monument, their eyes widening to take in the wonderful vista of a snowy white building arising almost out of nowhere.
Built by the Mughal emperor Shah Jahan in the memory of his beloved wife Mumtaz Mahal, the Taj Mahal is a mausoleum that took over 22 years to build.  The great Indian poet, writer and artist Rabindranath Tagore, the first Indian and non-European to win the Nobel Prize for Literature described the Taj Mahal as 'a teardrop' which 'glistens spotlessly bright on the cheek of time, forever and ever'.  The Taj Mahal is primarily made of gleaming white marble from Makrana in Rajasthan and inlaid with 28 precious and semi-precious stones. The surrounding mosque, guesthouse and gateway are a great blend of marble and sandstone. Pattern and prayers abound on the exterior walls of the Taj Mahal complex – the pietra dura or inlay work comprises of beautiful flowers, geometric pattern and verses from the holy Koran.
On a recent Mystical India trip, guests could not stop clicking pictures of the Taj Mahal from the moment they had their first glimpse of this beautiful edifice from the grand entrance gateway. As the first rays of the sun fell on the perfect white marble onion domes and the walls inlaid with semi-precious stones, the Taj Mahal seemed to be enveloped in a wonderful golden glow. The Taj Mahal always exceeds expectations, appearing grander and much more magnificent than one has imagined. As they walked closer to the Taj Mahal, it seemed to fill their senses, looming larger than life with each step. Truly, nothing can compete with being at the Taj Mahal in person.
***
To learn more about our Mystical India tour, click here!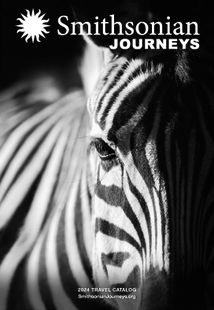 Request a Free Catalog
Download now to find inspiration for your next journey
Get It Free!
Be the First to Know
Sign up to learn more about our tours and special offers
Sign Up