Pura Vida and the Delights of Costa Rica
---
January 6-17, 2014
Traveling through Costa Rica you learn to expect the unexpected. Everyday something new and exciting was waiting for us as we drove through the mountainous volcanic region of Costa Rica ending with a few days on a gorgeous beach along the Pacific Coast of Guanacaste.  Our journey was one long treasure hunt for cultural highlights and natural wonders.
One of those cultural highlights was spending time talking with Marvin Rockwell (now 91). He was one of the original Quaker settlers of Monteverde. His story amazed us all with how they came to Costa Rica in 1951 and settled their "Green Mountain." They were attracted by the beauty of the country and the fact that in 1948 Costa Rica abolished its Army to fund schools. The journey was not easy as several decided to travel from Fairhope, Alabama by land in a few vehicles to bring some of their belongings.  At that time, the Pan American Highway was more myth than reality. When they traveled through Nicaragua and reached the Costa Rican border they found no road at all. It took 3 months to travel the 12 miles to the nearest settlement. The Quakers chose Monteverde in particular because of the high elevation and the sizable area of relatively flat land.
The fabled nature reserve they helped start is now a major destination for those seeking to experience the cloud forest. With its many vines, epiphytes, and trees it is one of the natural wonders of Costa Rica. It is also famous for the Resplendent Quetzal and hundreds of other bird species. One of the features of the cloud forest that is hard to miss is, of course, the clouds. Walking through the forest with the mist swirling around us was truly a magical experience. And if that was not enough, we found ourselves at the end of the rainbow.
But many other natural wonders were waiting around every corner. It is tough to only highlight a few as we saw so many. They included the Three-toed Sloth crossing the road near Arenal National Park, the crocodiles and monkeys along the Tempisque River, and the many butterflies and iguanas we saw everywhere we went.
But I would be remiss if I did not mention the birds. We saw and heard birds at every stop including toucans, tanagers, trogons, jays and hummingbirds. In fact, we were even able to have hummingbirds land on our fingers at the hummingbird gallery at Monteverde.
Yet, best of all, we were able to meet some wonderful people and make many new friends. Enjoying travel with others makes great times even better. Pura Vida!
***
For more information on our Costa Rica's Natural Treasures, click here!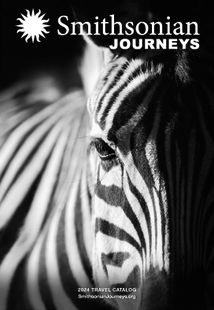 Request a Free Catalog
Download now to find inspiration for your next journey
Get It Free!
Be the First to Know
Sign up to learn more about our tours and special offers
Sign Up