Contrasts of a Journey Through Australia and New Zealand
---
I love the contrasts in traveling. I look forward to the contrast of my destination with my home. The destination may be inspiring, challenging or awesomely beautiful, but usually makes the return home very comfortably familiar. Our Natural Wonders of Australia and New Zealand journey was a stark contrast with nearly every day distinct from the previous day. The Great Barrier Reef challenged some of us to snorkel far out to the coral and giant parrot fish. Others near the beach were suddenly yelling "turtle" as a green sea turtle swam between their legs. Then when I was silently admiring a giant clam, my flippers were brushed aside as a turtle passed just beneath, either oblivious to my presence or possessing a cheeky desire to startle me (successfully!).
Kuranda and the awesome beauty of the rainforest were, for me, almost belittled by the beautiful olive-backed sunbirds nesting in the middle of the food court yard with their nest hanging from a vendor's display. They busily traveled out and back, feeding their young, despite our violation of their privacy. Then walking down into the lower market it was transformed into a familiar set of commercial activities to a holdout hippie-style community as an echo of the old days in Kuranda.
Travel to Alice Springs and Ayers Rock brought additional contrasts. I was very pleased to have a stop at the local headquarters for the Royal Flying Doctors Service. Years back they had evacuated a very sick me from Mackay to Townsville in a rather nasty storm. Thanks Mates!
On to the outback, that contrasts not only with other places but with itself. The harsh red of the ground clashes almost violently with the stark blue sky. The remarkably complex and ancient culture of the people from Uluru is difficult to rationalize with our own. Many carry on with the traditional lifestyle that dates back many thousands of years. I chose my aboriginal painting purchase to remind me of that contrast AND the wichitee grub that I was challenged to eat during the bush tucker demonstration. (It was actually quite good!)
Then iconic Sydney from Opera House to Bondi Beach that all fit nicely into expectations only to clash that night with dinner in a Bavarian Bier House complete with sausage, Oompah band and nail hammering contest.
Mount Cook with clear skies and a sprinkling of snow forced us to dig a bit deeper into our luggage to stay warm. Our group split into various activities ranging from bush walks to a glacier to scenic cruising on an alpine glacial lake.
One portion of our trip that had little contrast was the quality of our accommodations. They were absolutely top flight with delicious meals, great wines and friendly conversations. Our Tour Guides contrasted in style but not in the depth of their presentations as the bus portions of our tour progressed. All of us left this journey with a contrast in the scope of our knowledge of Australia and New Zealand and an eager desire to visit again.
 ***
Read more about upcoming departures of our Natural Wonders of Australia and New Zealand tour here.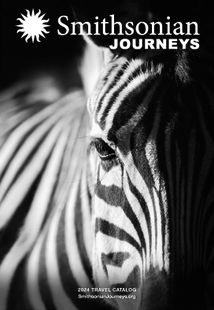 Request a Free Catalog
Download now to find inspiration for your next journey
Get It Free!
Be the First to Know
Sign up to learn more about our tours and special offers
Sign Up