A Sumptuous Tour of Peru
---
When people hear that I'm going to Peru again, they often assume that it is to visit archaeological sites such as Machu Picchu or others in the Cuzco area.  Or perhaps it's to see some of the spectacular scenery – snowcapped peaks, the rainforest, or Lake Titicaca.  But more and more these days, when asked why I go to Peru, my answer is "for the food."
In recent years, Peruvian cuisine has become world famous, thanks to the work of such noted chefs as Gaston Acurio and his wife Astrid Gutsche, who have several restaurants in Lima and elsewhere around the world (several of our tour participants have been lucky enough to secure reservations for one of their Lima spots – but this takes much planning well in advance of the tour).  But every one of the hotels that we use on the Smithsonian Journeys tours have great restaurants, so it is possible to sample a wide variety of typical dishes as well as some of the new eclectic fusion plates and the local wines.
One item that surprises many first-time visitors to Peru is cuy (guinea pig) – usually served roasted, and frankly not an everyday dish for most Peruvians.
Consumption of cuyes is most often associated with special celebrations for Peruvian families, but tourists may have a chance to sample roasted cuy at a restaurant in Cuzco.
A very typical Andean food is the potato – several hundred varieties are grown in mountain regions.  Although baked, boiled, or fried potatoes are part of many meals, a great introduction to the Peruvian potato is a dish called causa – essentially cold mashed yellow potatoes, stuffed with chicken, seafood, or vegetables. 
My favorite is a causa stuffed with mariscos (shellfish), but some restaurants, such as the dining room at the Inka Terra hotel, feature three different causas as an entrée.
Another typical entrée is ceviche – often a white fish, shrimp, or shellfish prepared in a strong lime/onion/chili pepper mixture (the citric acid "cooks" the fish).  Usually thought of as a coastal dish, some highland restaurants now serve a ceviche done with local trout.
One of the most typical main courses found on dinner menus is lomo saltado – thin slices of meat stir-fried with french fries and vegetables and served with a side of rice.
Other dishes that you might find on the menu include lots of varieties of chicken (my own favorite is aji de gallina – shredded chicken in a mild spicy sauce over rice) – or try pollo a la brasa (whole chicken roasted on a spit).
Then there are desserts – a whole range of sweet treats made with local fruits –try lucuma ice cream for something distinctly different.  But my all-time favorite has to be the messy sundae at the Inka Terra restaurant.  That's the name for it (although on the menu it's called the "miskey sundae") – vanilla ice cream, homemade brownies, and a fudge sauce to die for, with the serving glass dipped in the sauce to create the "messy" name.
***
Read more about upcoming departures of our Legendary Peru tour here.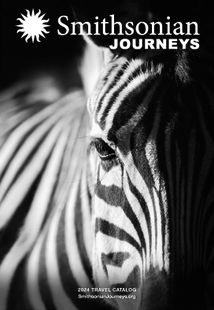 Request a Free Catalog
Download now to find inspiration for your next journey
Get It Free!
Be the First to Know
Sign up to learn more about our tours and special offers
Sign Up