A Journey Through Southern Spain
---
The evening sun is casting long shadows across the vast Andalusian plain and from the vantage point, high on the balcony of the Parador in Carmona, it is easy to contemplate the rich history of the Iberian peninsula. It is autumn, yet the air is still warm and redolent with the scent of boxwood. It is also harvest time and row after row of the silvery blue olive trees hang dense with the promise of another season. Gold begins to tinge the leaves in the vineyards also ready for harvest. In the distance, we see thin wisps of smoke as farmers clear brush and prepare their fields for the rainy season still to come.
From this perch, it is easy to imagine the thunderous sounds of horses' hooves on the plain and the clang of steel as armies of Romans, Visigoths, Arabs, and Christians clashed over centuries to seize the promontories and thus take control of these precious agricultural lands. The very stones we have tread on our walk around the charming town of Carmona evoke Roman soldiers marching across ancient Hispania and merchants haggling over the prices of fruits and vegetables: "No thank you, Tullius! Your oranges are much too bitter, only good for decorating the garden or marinating that suckling pig I intend to roast next week!" Today's faithful enter churches populated by the subtly carved saints and richly embroidered tapestries of renaissance- and baroque-era bishops, but whose foundations were laid by Visigothic kings or Moorish emirs.
In fact, as we enter through the horseshoe arches of the gates of our parador, once a fortified palace, and walk past the courtyard with its lovely portico of slender marble columns, patterned stucco walls, and bubbling fountains, we cannot help but think of the Moorish kings who built and defended these very walls and spaces for centuries or of King Pedro I, whose love of Islamic ornament guaranteed that mudejar workers would continue to elaborate and expand the palace after it fell into the hands of Christian conquerors. But now as the sun begins to set, we finish sipping our glass of sherry from the nearby Jerez region; it is time to retire and our minds turn to the gifts of art and culture that this amazing peninsula will reveal to us tomorrow.
***
To learn more about our Treasures of Southern Spain and Portugal tour, click here.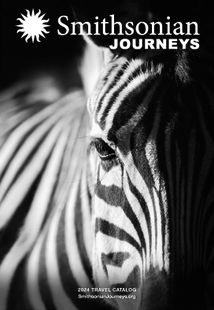 Request a Free Catalog
Download now to find inspiration for your next journey
Get It Free!
Be the First to Know
Sign up to learn more about our tours and special offers
Sign Up