A Multitude of People
---
People. No matter how often I visit China, I am always struck by the number and variety of people. Standing in Tiananmen Square, outside the Forbidden City in Beijing, one finds all kinds of people at the symbolic heart of China. Foreign tourists, Beijing locals taking the air, and Chinese tourists visiting the capital all mingle in the Square. Eventually, all visitors forge ahead into the Forbidden City in a good-natured crowd funneling through the massive Gate of Heavenly Peace. We all find each other interesting. Every so often, a Chinese tourist shyly approaches me and gestures a request to take a photograph with me. When I respond positively in Chinese, we strike up a conversation about our various travels. Usually the photographer is from a part of China where foreigners are less common. After the snap, we smile, offer best wishes, and return to viewing the architectural splendors of the Forbidden City.
These encounters happen regularly on our trip: at the Forbidden City, the Great Wall, the Terracotta Army, in villages along the Yangtze, and on the Bund in Shanghai. Some people surreptitiously take pictures, some make polite requests. All are happy to have a memento of their travels. I imagine them going back to their hometowns, showing their photos and pointing at the one with the tall, bearded foreigner who could speak some Chinese. "Amazing!" say their friends. I, too, regale my friends and family with vignettes of the people I have met: the northeastern farmers on the Great Wall, the family of artists who welcomed us into their Beijing hutong courtyard house, the groundskeeper in the Great Mosque in Xi'an, or the elderly gentleman sketching a copy of a landscape painting in the Shanghai Museum. Each of those encounters breathes life into my visits to China. Each connects me to China's past and present.
***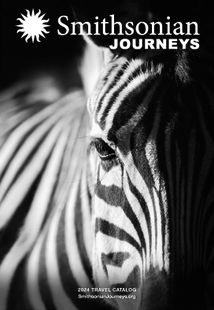 Request a Free Catalog
Download now to find inspiration for your next journey
Get It Free!
Be the First to Know
Sign up to learn more about our tours and special offers
Sign Up