Auf den Flügeln der Musik – On the Wings of Music
---
The just-concluded Smithsonian Journeys Tour 'Symphony on the Danube' of September 2013, started in Krakow, Poland, traversed the Czech Republic to Prague and continued along the Danube from Passau to Melk, to Vienna, Bratislava and Budapest -- its regions and cities showcases some of the greatest European architecture, art and music. Our journey had a musical emphasis, as its title suggests, and musical performances were scheduled throughout the tour, from Chopin's music in Krakow, to Dvořák's and Smetana's in Prague, to recitals on the great organs in Passau and Melk, to Haydn, Mozart, Schubert and Strauss compositions in Vienna, and Hungarian gypsy music in Budapest. For me, though, it is always magical Prague, the city of a thousand spires, which leaves the most memorable musical impressions.
Even in Mozart's time, Bohemia and its capital, Prague, were considered the 'conservatory of music' with its exceptionally well-trained musicians, and also with a population profoundly appreciative of Mozart's genius — very different from Vienna, where Mozart's genius was not always understood. Mozart's 'beloved Prague citizens' adored his Magic Flute and his Marriage of Figaro. His 'Don Giovanni' premiered in Prague's Estate Theatre, and after his death in 1791, Mozart's Requiem saw its first performance in St. Nicholas Church in the Mala Strana district (Lesser Town) below the Hrádčany Castle.
Architecturally, with its many Baroque churches, Prague provides an exceptional visual and acoustic background for many of the greatest compositions of the Baroque and Classical periods. These churches, built as basilicas with a central rotunda and soaring, painted heavens with figures of saints dramatically reaching into space, have perfect acoustics, which differ from those experienced in particular by American audiences, who are more familiar with acoustics in their Gothic-style churches or modern concert halls. Baroque-style churches do not exist in America. On my European tours, I always encourage our Smithsonian travelers to experience music of the period performed in buildings of the period.
In Prague, as in Eastern Europe in general, Baroque organs, many still in their original, unaltered state after these many centuries, are tuned to the principals of Baroque music, i.e., almost one octave lower than modern organs. This requires accompanying instruments also to be tuned to the same pitch, resulting in a warm, breathy sound – quite different from what we usually hear elsewhere. The concert we attended in St. Nicholas Church featured Jan Kalfus on the Baroque organ and mezzosoprano Yvona Škvárová, soloist of the National Theatre. The program started with two compositions of the Baroque era, J. S. Bach's Prelude and Fugue in E-Minor, followed by Händel's Arias from Xerxes, and Semele -- with organ and voice soaring in this perfect architectural space --reminding us of the importance of the human voice which found new expressions in Bach's and Händel's oratorios. A selection of biblical songs by Felix Mendelssohn-Bartholdy and Antonin Dvořák concluded this extraordinary concert, which left us all transported "on the wings of music".
Another amazing musical experience took place in Prague's Lobkowicz Palace, where we first visited the extraordinary collection of the Princes Lobkowicz, which was restored to the current Prince Lobkowicz family after the fall of communism.   The Beethoven Room, one of the most interesting parts of the collection, has period instruments on view, as well as the original scores of Beethoven's Third Symphony -- initially dedicated to Napoleon, but changed in honor of an ancestor of the current Prince Lobkowicz, after Napoleon's advance and subjugation of Eastern Europe -- and Beethoven's Fourth and Fifth Symphonies and Mozart's re-orchestration of Händel's Messiah in Mozart's own hand.
Prince Lobkowicz personally greeted us before the ensuing concert in one of the Baroque Halls of his Palace. A superb quartet played classical and contemporary music. One of the most moving pieces was Antonin Dvořák's Largo from his New World Symphony, musically connecting Old Europe and the New World represented by our Smithsonian travelers. For all of us it was one of the highlights of our travels — on the Danube and "on the wings of music."
***
To learn more about our Symphony on the Blue Danube: A Classical Music Cruise click here!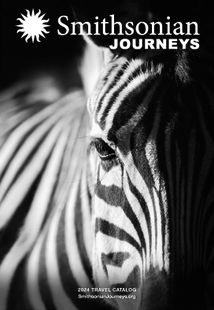 Request a Free Catalog
Download now to find inspiration for your next journey
Get It Free!
Be the First to Know
Sign up to learn more about our tours and special offers
Sign Up