A Parallel Ireland
---
Come to Ireland and you'll see images you've dreamed of for years: thatched cottages, castles on hill-tops, colorful Georgian doors in Dublin. You will wander through the stately homes of the Anglo-Irish, and you will clamber over the stones of 6th century monastic foundations, still as complex and fascinating today as they must have been in their heyday. We come to Ireland to stand on the ground where great things happened, where heroic or ingenious men and women lived, worked, and made history. Happily, we find all of that and it delights, intrigues, and even changes us. But we find something else sharing the same earth with the history and culture:  a parallel kingdom that is just as vital, enticing, and essential. That is, the Ireland of animals!
We rolled past fields salted with sheep, and we peered over hedges into pastures where calves leaned into their mothers' warm sides. There were sparrows and egrets, ponies and wolfhounds, European robins and a billion magpies. There were pairs of Connemara donkeys sheltering by stone walls as rain spit sideways but they – undaunted – seemed too deep in conversation to notice the weather. Leigheas gach brón an comhrá, as they say. The cure for every sorrow is conversation.
Off the bus, though, we found ourselves occasionally at eye-level with Ireland's creatures. On our first full day in Dublin, we "met" the swans on St. Stephen's Green and got close enough to admire the cygnets in their furry plumage. Like a group of bored teenagers, they flopped down on the walkway to demonstrate their lack of interest. Not so their parents who hissed and swiveled serpentine necks toward the bare legs of a fellow traveler. The rest of us deemed it wise to take a different path. 
I suppose we weren't surprised to see swans as they figure rather prominently in Irish stories of transformation. The most famous of these is "The Children of Lir," in which a king's unlucky progeny were transformed into swans by their jealous stepmother and forced to spend 900 years in swan-shape. What makes this somehow more unearthly is that they retained the power of human speech. Thinking of that tale, I half expected these city swans to pipe up in their best Dublin accent, "Stop yer gawking! Clear off the path, ya miserable articles!"
Some of our encounters with animals were quiet – so quiet you could nearly overlook them. Over a lunch of fresh fish at Tí Joe Watty's on Inismór, the largest of the Aran Islands, I noticed this polite creature sitting in the doorway. She had the run of the beer garden, but her welcome stopped at the door. She gazed at us steadily, invoking the proverb, Tá cead ag an chat amharc ar an rí, "The cat has permission to look at the king." In this case, however, it isn't we who were royal. That honor, I'm sure, belonged to the fish on our plates!
Animals seem to live much closer to human beings and houses in Ireland. Down the road from Tí Joe Watty's, we spied this character sauntering round the doorstep, a born diplomat if ever there were one:
And there across the road was his neighbor who took some time off gazing at his ruined church to allow us to rub his cheek and coo at him until he nearly smiled:
He seemed to embody another proverb, one that offers us hope if we can just hang on.  Mair, a chapaill, agus gheobhaidh tú féar. Live, horse, and you will get grass. Perhaps he was a retired jaunting car horse and distant cousin to Robert (yes, that's his real name), the good-natured fellow who pulled our car through beautiful Killarney National Park and all the way to Lough Leane?
But truly, of all the creatures we encountered, the most remarkable were certainly the sheepdogs we saw on the Ring of Kerry in the employ of shepherd Brendan Ferris. Trained to respond to different whistle pitches and even to the softest verbal command, these dogs displayed an enviable eagerness for their work along and great cleverness! For the dog lovers among us, this was one of the highlights of the trip. Here we got a peek into the mysterious and wonderful intersection between human and animal worlds – a shared world of mutual affection, productivity, and delight.
These meetings with animals rounded out the tour and brought us back to earth after the splendors of Trinity, Muckross House, and Kilkenny Castle. Here we saw Ireland on a creaturely scale, and the country is warmer and richer for that. Long may they bray, squawk, peck, neigh, and bark.   Beannachtaí orthu go léir: Blessings on all of them!
***
Learn more about our tour to the Emerald Isle!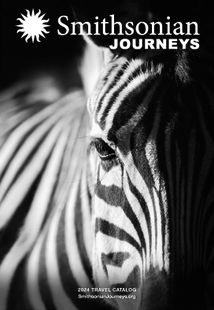 Request a Free Catalog
Download now to find inspiration for your next journey
Get It Free!
Be the First to Know
Sign up to learn more about our tours and special offers
Sign Up