Dreaming in French: A Month in Provence
---
For the Smithsonian group on Journeys' new Living in Provence month-long immersion program, there are as many wonderful reasons for joining the trip as there are Smithsonian Travelers. Over the course of the next month, the Smithsonian Travelers will be immersed in and learning about French culture, history, language, art, and cuisine while living in Aix-en-Provence's Old Town, surrounded by historic fountains, local fruit and vegetable markets, cozy cafés, pâtisseries, and gorgeous tree-shaded boulevards.
The Smithsonian Travelers had an exciting first day exploring the heart of Aix-en-Provence and becoming acquainted with the beautiful ancient city that will be their home for the next month. They also learned the route to their nearby language school both by bus and on foot, met with their French teachers, and had their first excursion to a nearby grocery store to both stock up on familiar essentials and make new discoveries of French products to try during their stay.
In the evening, the group gathered for a welcome reception, featuring some of the region's delicious wines, as well as kir royal, a delicious apéritif comprised of champagne and cassis, a black currant liqueur. Each traveler shared with one another what led each of them to enroll in this very special shape-your-own-experience Smithsonian Journey here in the cultural heart of Southern France. Each traveler's motivations and goals are unique and yet resonated with the rest of the group.
One Smithsonian Traveler looks forward to applying her French skills to reading books in French with her granddaughter, who is studying French in school. Another Smithsonian Traveler is considering moving to Europe after retirement, and this month-long program will provide the perfect opportunity to explore that possibility in a comfortable setting and in the warm company of the Smithsonian community.  "It's all of my bucket list wrapped up into one program!" exclaimed one traveler. Another shared, "By the end of the trip, I want to dream in French!" The rest of the group heartily agreed. Someone joked, "I dreamt in French last night, but didn't understand a word!" We laughed and told him it's just a matter of time before he'll be translating his dreams here in Provence.
***
To learn more about our Living in Provence tour, click here.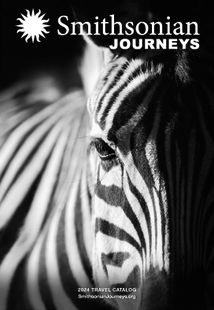 Request a Free Catalog
Download now to find inspiration for your next journey
Get It Free!
Be the First to Know
Sign up to learn more about our tours and special offers
Sign Up