Deeply Moving Senegal: Around the World with Dr. Richard Kurin
---
We crossed much of the African continent flying into Senegal, seeing both the richness of the landscape and the horizon-filling flat plain of the Sahara Desert.
Dakar is the capital of Senegal, the former capital of French West Africa and still the thriving cosmopolitan city of the region. It has grown huge since I last visited some two decades ago, the charming old French colonial quarter overwhelmed by the urban expanse. But development under this long-lived democratic government seems to have taken hold—as we saw new, modern, well-built roads, good housing, schools, public buildings and markets and a wide variety of amenities. We settled in at our hotel on Dakar's peninsula which juts out into the Atlantic Ocean.
Our big visit was to Gorée Island, a short ferry-ride from Dakar's port.
We were welcomed to the island by a percussion band whose rhythms and beats were infectious. Social dancing in Senegal is commonplace. Though the country is some 95% Muslim, the orientation of the multi-ethnic population is quite ecumenical and tolerant. Music and dance are ingrained into cultural traditions and even used by various spiritual brotherhoods. Men and women, Senegalese and American joined in, and soon our whole group was moving with the beat. The music helped create a strong communal feeling among us, and between us and our Senegalese hosts, and I couldn't help but think about our initial drum circle with Mickey Hart back in Seattle at the start of the trip. There are simply things, like music and movement, that bring people of diverse backgrounds together as human beings.
Gorée  is a tiny island, settled by the Portuguese and then used by the French; its colonial buildings, church and layout are all very charming, until you realize that for some three centuries this island was used as a way-station in the slave trade.
We visited the incredibly evocative House of Slaves. Here was the building in which 150 or so slaves at a time where kept in cells, chained and auctioned, and then shipped out through a "door of no return" onto slave ships sailing for the Caribbean and the Americas. A choir of teenage girls and boys sang hymns, familiar to many, and set the mood—both somber and uplifting. It was here in this building that man's inhumanity to his fellow man reached its crescendo. At Gorée, and similar way-stations like it, scholars estimate that some 20 million enslaved Africans were separated from their families and their homes, walked through similar doors of no return and shipped across the seas. Again, as in Rwanda, though we were much affected by the history of the place, we celebrated with the Senegalese the resilience of those who survived—both in the Americas and in Africa. As Gorée now reminds us, the shackles of slavery were eventually broken.
We visited the various museums and artisanal workshops on the island, bargained at its market, enjoyed a meal and the ballads of a local griot—or singing storyteller.
As the group headed back to the hotel, Johnnetta and I broke away for meetings with the Senegalese Ministers of Culture and Tourism. We reviewed with Minister Mbaye the history of Smithsonian programs with Senegal, including a landmark 1989 program at the Smithsonian Folklife Festival, as well as the current efforts of our National Museum of African American History and Culture to cooperate with Senegal's Musée de l'Institut Fondamental d'Afrique Noire (IFAN) on the archaeological heritage of slavery on Gorée. We are also involved in initiatives to help train professionals in museological work.  Our meeting with the Minister of Tourism is a special treat, for the incumbent is Youssou N'Dour, the famed world music star. He is very interested in encouraging educational, cultural tourism to Senegal and working with the National Museum of African Art and the Smithsonian in doing so.
The evening program included a wonderful briefing by Kristin Stewart, the public affairs officer from the U.S. Embassy and a film and discussion with Senegal's most prominent sculptor Ousmane Sow. The National Museum of African Art has one of his most important sculptures as a signature piece in its collection—Sow's rendition of Haitian independence leader Toussaint Loverture comforting a freed slave. It is a remarkable sculpture, and Sow captures the emotion of the moment in his larger-than-life mud-sculpted figures. He's a charming and delightful creative soul, and he joined the group for a fabulous dinner and engaging conversation demonstrating by word and art how he uses African history, tradition, and its very soil to mold aspirations of future and universal value.
 ***
Find more information about our Around the World Private Jet trips here.
Read Dr. Kurin's previous dispatch from Rwanda: "Renewal in Rwanda: Around the World with Dr. Richard Kurin"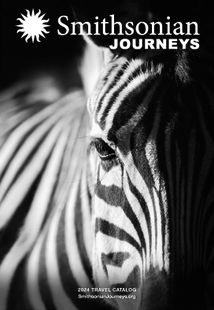 Request a Free Catalog
Download now to find inspiration for your next journey
Get It Free!
Be the First to Know
Sign up to learn more about our tours and special offers
Sign Up