Culturally Rich India: Around the World with Dr. Richard Kurin
---
I first visited India in 1970 as an aspiring anthropologist, and have spent much time there in subsequent visits over the decades. Yet every time there is a fascination and allure of a immensely rich culture and complex society—no less so this time as we arrive in Jodhpur, an oasis in the midst of arid Rajasthan.
We stay at the Bhawan Umaid Palace, the home of the Maharajah of Jodhpur, a great supporter and collaborator of the Smithsonian—having recently loaned us several dozen historic paintings for a groundbreaking exhibition, Garden and Cosmos, that opened at the Sackler Gallery in Washington, and subsequently traveled to the Seattle Art Museum, the British Museum, Sydney, Australia, and the National Museum of India. We are greeted by my Smithsonian colleague Johnnetta Cole, the Director of the National Museum of African Art, who will join us for the African final leg of the Around the World trip.
The palace, now a Taj hotel, is a marvelous structure, built in the 1920s and 1930s as a public works project to employ Jodhpur's citizens and artisans. It is designed in an art deco style combining traditional elements of Rajastani architecture. Covered walkways, rectangular and symmetrical features with a central dome and towers, a beautiful garden and outdoor pavilion, and signs indicating "mardana" and "zenana"—men's and women's areas, recall the region's traditional heritage.  The palace is decorated with historical photographs of the Rathore family's ancestors who ruled Mewar-Jodhpur—stretching back to the early 13th century, but also including those of the British Raj, and polo players outfitted in what came to be called "jodhpurs." A favorite for us on the grounds are the numerous peacocks—gracefully strutting about, but also flying up to the palace parapets.
Our group breaks off in varied directions—touring the palace grounds and museum, visiting handicrafts, gem and carpet merchants in town, and exploring the historical Mehrangarh Fort that once housed the maharajahs and served as the city's defense.
Our second night in Jodhpur takes us to Bal Samand, another of the Maharajah's palaces exquisitely located adjacent to a desert lake. There the Maharajah and his family, the Maharani and his daughter join us for an explosive performance of Rajasthani and Indian culture orchestrated and choreographed by Rajeev Sethi and his team from the Asian Heritage Foundation. I worked with Rajeev in organizing the Festival of India at the Smithsonian in 1985, and subsequently with a program on the Silk Road with Yo-Yo Ma and others for the Smithsonian Folklife Festival in 2002. Rajeev is India's foremost sceneographer—a designer of hotels, airports, world's fair pavilions, museum exhibitions, fairs, festivals and cityscapes. His life's work has been to utilize the resources and talents of India's artisans and performers in contemporary ways so they can evoke the best of their heritage while also finding new, beneficial uses for it—educational, aesthetic, and financial. He is aided by Navina Jafa, a former Smithsonian and Fulbright Fellow who studied with me and is also a classical dancer.
At Bal Samand Palace, all of the men in our group are festooned with turbans; the women receive henna designs on their hands. Rajasthani Langa and Manganiyar musicians serenade the group, with love songs emanating from deep in their soul, accompanied by drums and castanet's as the Kalbeliya women then take up their spinning and twisting gyrations in the most sensual of ways.
It is to be an evening celebrating the renewal of Spring, creativity and fertility. As we make our way along the palace's grounds we are entertained by a kathak dance performance. Then, one after another, Lavani dancers from Maharashtra burst forth in an exuberant display of erotic energy, followed by akhara stick fight dancers demonstrating male prowess, and then masked drama chhau dancers enact the mythic victory of gods Shiva and Parvati over demonic forces. Then, hardly turning our heads, we are in the midst of a crèche-like tableaux of Radha and Krishna, along with Peacock dancers and then folk dancers of Madhya Pradesh, with the tolubomlatta shadow puppets, magicians, turban tiers, lac makers and potters and berupiyas—imitators of monkeys demonstrating their amazing artistry. As we are led in a wedding procession, I recognize a few performers with whom I've worked over the years.
Just when we think this living, rotating, moving display is over more bursts forth—a Bollywood extravaganza arises on the roof of a palace pavilion; on the ground we are treated to the trick romantic imagery of mela, or Indian fair photographers who have set up booths for us. The sensory overload does not stop with performance and demonstrations, for we are greeted with the aromas and then the tastes of a startling feast of Indian foods for an outdoor dinner. And just as we bite into morsels of tandori chicken and shrimp, acrobatic dances of from India's far northeastern province entertain us, as does the turbaned Rajasthani Manganiyar Swarup Khan the winner of the popular television singing show, "India's Idol."
We conclude the evening with an exhibit of Jiyo—a project celebrating its third anniversary and dedicated to bringing handmade, hand woven, beautiful creations—from fashion and quilt textiles to baskets and ceramics, from tiles and wall paper to jewelry to market for the financial benefit of artisans and the cultural benefit of long-lived Indian civilization. A final acrobatic whirlwind of performance closes out the night—as we return—sensorily exhausted and aesthetically overwhelmed from the experience. We left the next day, with admiration for India's modern progress, but also for the tremendous reservoir of talent, artistry and culture it possesses in charting the future.
 ***
Find more information about our Around the World Private Jet trips here.
Read Dr. Kurin's previous dispatch from Bhutan: "Happiness in Bhutan: Around the World with Dr. Richard Kurin"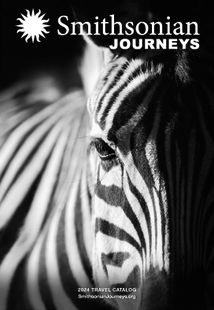 Request a Free Catalog
Download now to find inspiration for your next journey
Get It Free!
Be the First to Know
Sign up to learn more about our tours and special offers
Sign Up