Quickly Exploring Kathmandu: Around the World with Dr. Richard Kurin
---
Dispatch #5: Quickly Exploring Kathmandu
Kathmandu's growth has exploded over the four decades since I first visited Nepal in 1970. Tourists, trekkers and migrants from villages across the nation have made the valley a populous place. Houses made of its characteristic red brick look like Legos sprouting up everywhere. Smokestacks of the brick-making kilns are ubiquitous, and the smoke makes for a hazy sky, obscuring the surrounding Himalayan mountain ranges.
Much has changed in Nepal with its bursting population, new businesses and communications technologies that connect what was once a distant mountain kingdom to an interconnected global system. Nepal too has suffered political instability with the ending of its monarchy and the failure to draft a new constitution and develop a workable national government. And while the capital city has many conveniences, rural areas face high unemployment, lack of education, few decent roads, poor health care and few other civic services.
Amidst this change and its challenges, visits by our group to the Valley's old sections of Kathmandu, Patan, and Bhaktapur are instructive. The Kathmandu Valley has, since ancient times, been the home of Newars who defined its language, cuisine, and customs. But added to this native base, the valley became a meeting and even melding point of sorts in the Himalayas for Buddhists, Hindus and those practicing an indigenous animism. People came up from India's Gangetic Plain, and down from Tibet's high plateau. Elements of a cultural potpourri in art, music, dance, food, craft, and architecture were woven together by Newars over the centuries. In the 18th century, the valley was conquered by Gorkhas, and their kingdom unified disparate smaller kingdoms of Kathmandu, Patan and Bhaktapur—all within a few miles of each other. The architectural archaeology of this cultural history is  particularly rich and is evidenced by the exquisite durbars or courtly public squares of these three capitals in the valley.
The characteristic local architectural innovation was the use of intricately carved wood incorporated into brick structures as windows, walls, roofs, doors and decorative features. It's a juxtaposition that was practically successful and aesthetically pleasing. We marvel at the Buddhist temple pagodas, the kingly residences, and other public buildings conceived of in this style.
We stay at Dwarika's hotel—conceived of by its founder in the same way. So the legend goes, as a young man Dwarika Das Shrestha, born of a relatively wealthy Nepali family and trained in law and business, saw some carpenters sawing up pieces of carved wood retrieved from a historic Nepali structure. They were trying to salvage reusable wood, and intended to use the historic carvings for firewood. Retrieving the piece kindled a lifelong quest in Dwarika, and he became a collector of Nepali antiquities, particularly carved wood. Having started a guest house for pilgrims in the early 1950s, this expanded into a hotel that incorporated the wood carved doors, walls, and windows into its design. This project grew into a hotel of exquisite character and proportion employing and training hundreds of carpenters and artisans and helping revive this important Nepali crafts.  Now the hotel is widely recognized as an exemplary "heritage hotel." All its features, from the courtyards, sculptures and water fountain, to the lobby, hallway and room furnishing and decorations are in local style. The hotel not only provides us a hospitable and engaging stay, but is itself a living, functioning, three-dimensional textbook about the preservation of Nepal's cultural heritage.
 ***
Find more information about our Around the World Private Jet trips here.
Read Dr. Kurin's previous dispatch from Vietnam: "Ha Long Bay and Hanoi: Around the World with Dr. Richard Kurin"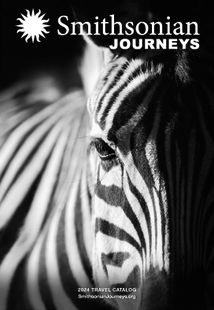 Request a Free Catalog
Download now to find inspiration for your next journey
Get It Free!
Be the First to Know
Sign up to learn more about our tours and special offers
Sign Up