Beginning with a Big Bang: Around the World with Dr. Richard Kurin
---
Day 1, Seattle: Beginning with a Big Bang
Our adventurous and intrepid group of some 70 travelers and staff gathered at the Four Seasons Hotel in a breezy and surprisingly sunny Seattle to start our journey. We made all the final preparations for our 22-day cultural expedition around the planet—getting passports and inoculation forms in order, tying on baggage tags, receiving friendly briefings and useful instructions—like how to use our TCS & Starquest provided iPads to access maps, information on destinations, and Powerpoints for in-flight lectures. In between, some of us were able to explore downtown Seattle, visiting a wonderful show of Rembrandt and old masters at the Seattle Art Museum and watching the "fish tossers" at the Public Market on the shore of the Puget Sound.
Our official program began with what only could be described as, well, the Big Bang—orchestrated by a long time personal friend, and friend of the Smithsonian, Mickey Hart.
Mickey is perhaps best known as the drummer for the Grateful Dead, the world renowned rock band. He's a multiple Grammy Award-winning artist who has also authored several books, produced numerous world music albums, and played a major role in understanding the effects and impacts of music on healing. Mickey has helped the Smithsonian with numerous projects over decades.
Mickey, aided by producer Ben Yonas, and friends John Hayden, Tor Dietrichson, and Jim Boneau, brought about 100 drums and other percussion instruments into the hotel ballroom for a very special event before our first dinner. Jamtown—a Seattle music education organization, provided the drums and also put together a wonderful display of the world's instruments—many of which we will see on our journey.
We arranged seating in an elliptical circle and for about half-an-hour I interviewed Mickey about his start in the Air Force, his career with a legendary rock band, how he acquired his interest in the world's music, and his research in Bali—one of our destinations. We spoke of how he helped save the sounds of America's and the world's heritage in the recording collections of the Smithsonian and the Library of Congress. He spoke of his work with Oliver Sachs and Walter Cronkite — how music is being used therapeutically as medicine to help people heal. In the last few years, he's teamed up with Smithsonian astrophysicists and other scholars, and recently with Nobel laureate George Smoot, to explore the sonic universe—the "music of the spheres." For Mickey, the Big Bang produced the beat of the universe and that beat is apparent in the pulses of each and every stellar and celestial body, as well as in every living thing — such as the heartbeat and pulses of human beings and the social rhythms of every community. For Mickey, health is being in tune with that beat.
To get us in rhythmic synch, Mickey then led the group in a drumming circle. All of us started out drumming drums, rattling rattles, shaking shakeries. You would have thought given the differences in the group — from all over the U.S., of varied background, men and women, older and younger, we'd be all over the sonic map, but amazingly everyone came into harmony. Mickey had us beat to the pulses of the sun and to the Big Bang itself. We sped up, slowed down; we sent waves of percussion around the room to everyone's delight. It was almost tribal. We didn't put on face paint or work ourselves into some frenzy of whooping war calls or anything. But we all smiled, and relished a very special time, and discovered that even before speaking a word with one another, we had become an instant community — quite apropos if you are going to share an airplane, an experience, and a trip around the planet with people you didn't know before.
So, Mickey energized the group and got our trip off on the right foot, or beat; we learned a lot, got to drum with a legendary musician, and after a nice dinner and good night's sleep, we were off to Japan!
***
Find more information about our Around the World Private Jet trips here.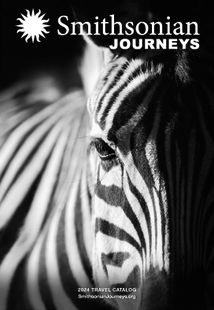 Request a Free Catalog
Download now to find inspiration for your next journey
Get It Free!
Be the First to Know
Sign up to learn more about our tours and special offers
Sign Up