When in Venice, Sip a Bellini (Hemingway Did)
---
Next time you are out for brunch, or even better, grabbing a cocktail in Venice, order a Bellini!  Originally concocted in Venice, Italy sometime between 1934 and 1948 by Giuseppe Cipriani (the founder of Harry's Bar), the Bellini's popularity won it a permanent place on the menu, after having been originally created as a seasonal drink. It got its name from Giovanni Bellini, the fifteenth century Venetian painter who used a color pink that Cipriani thought was recreated in his cocktail.
Among the famous customers to frequent Harry's Bar and sip on a Bellini made by Giuseppe Cipriani, are Charlie Chaplin, Barbara Hutton, Orson Welles, Truman Capote, and of course Ernest Hemingway. Hemingway was writing Over the River and Into the Trees while staying in Venice and mentions Harry's Bar many times. When told that Hemingway gave Cipriani and his bar free promotion, he responded "It was me and my bar that promoted him.  They gave him the Nobel prize afterwards, not before."
When traveling to Venice these days, you can still stop off at Harry's Bar, order a Bellini, and imagine the days when such visionary minds of the last century frequented the tables around you. A Bellini at Harry's Bar goes for approximately 18 Euros, but if you are just looking to be able to say you had a Bellini in Venice, you can get a non-alcoholic version in a bottle at the train station for a mere 2 Euros. But beware; it doesn't have as much history packed into the taste!
If you want to bring a bit of Italy to your brunch table, try the original recipe from Harry's Bar!
***
Ready to plan a getaway to Venice?  Travel with us and explore the ins and outs of this beautiful and magical city. Learn more about our Hidden Venice tour here.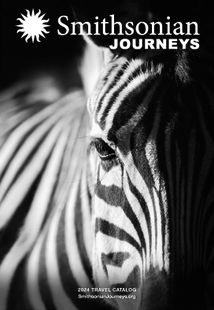 Request a Free Catalog
Download now to find inspiration for your next journey
Get It Free!
Be the First to Know
Sign up to learn more about our tours and special offers
Sign Up