A Smithsonian Traveler's Cuban Experience
---
Written by Smithsonian traveler and last year's Smithsonian Magazine Photo Contest grand prize winner photographer, Jia Han Dong.
Photographed by Jia Han Dong
Cuba is truly a dream destination for every photographer. I am glad to have had the chance to participate in the program: "Discover Cuba: It's People and Culture" People-To-People Exchange Journey. The very day I received the invitation from Smithsonian, I just knew I had to be a part of it. It didn't look like your typical "touristy," sight-seeing only trip; it seemed to me like it would be an adventure filled with the promise of cultural exchange and meeting people from all walks of life in Cuba.
The program accounted for all of our meals, save for one dinner and one lunch. For dinner, we were given a sheet of recommended "paladares" – privately owned restaurants, which were underground establishments a mere ten years ago. After Raul Castro called for "actualization of the economic model" (ie. economic reform), the Cuban government began encouraging self-employment, and more budding chefs received permits to run paladares. I, along with six other fellow travelers, chose a paladar owned by Fidel Castro's ex chef. When ordering, we asked about Castro's favorite dish. It turns out that he really liked fried shrimp, so a few of us decided to order some for ourselves.
While we were waiting for our food, I took the opportunity to head to the kitchen and spend some time with the chef. I noticed at one point that he pulled off all the shrimp heads and set them aside, deep frying only the bodies. I commented that the head was the best part (many may disagree, but I'm in the company of Anthony Bourdain!). Everyone in the kitchen laughed in surprise and the chef deep fried a few for me. It was delicious: crispy on the outside and still quite juicy inside; I loved them. The chef patted my shoulder amicably and grinned. Later, he sent a plate of shrimp heads to our table.
The entire meal was absolutely delightful and well prepared. The paladar was beautifully decorated, showcasing a picture of Fidel Castro with the chef displayed on the wall. Even with a bit of a language barrier, everyone there was incredibly accommodating and friendly. We spent a few wonderful hours with great food and even better company.
During a separate excursion, we were introduced to the traditional Afro-Cuban Rumba dance. Developed in Mantanzas, Cuba, it is entirely different from ballroom Rumba. We were fortunate enough to be treated to a private performance by the world-renowned rumba group "Los Muñequitos de Matanzas" in their rehearsal hall.
The group was formed in 1952 at a bar in Barrio Marina in Matanzas, Cuba, rather spontaneously: a group of youths had begun dancing with dishes and bottles to the rhythms of a playing song by Arsenio Rodríguez, emulating a style of what has come to be known as the "kitchen rumba." The group "Los Muñequitos de Matanzas" is part of the living legend of African music in Cuba, famous not only throughout Cuba, but also worldwide. The gentleman you see here was helping to set up the drums and other props. He told me he was 93 and still dancing, right before giving me a killer handshake. I could only revel in his incredible physical strength at such an advanced age.
On our last night in Havana, I was about to grab a taxi back to the hotel with two of my new friends from the tour when this gentleman came over and asked if I am Chinese. Once he got the confirmation, he was so excited that he gave me a warm hug and told me that he himself was half Chinese. Originally from Guang Dong Province in China, his father came to Cuba to look for tuna. Instead, his father found a wife in Havana. I was asked to wait just a moment, and he came back within moments carrying his family's photo album. He showed me his father's picture as well as a newspaper clip about his family's history. There was an obvious and quick bond between us, and it was a shame that we didn't have more time to talk and more common ground in languages we speak. But I had to get back to my friends waiting for me in the taxi. Looking back, I should have sent them off first and gotten to know my new friend.
Thinking back on my time in Cuba, I've found that Cubans are an incredibly friendly yet proud people. Smithsonian's tour was truly a once in a lifetime opportunity to go to Cuba, see it with my own eyes, meet everyday people living out their lives, and to gather insight into their culture, heritage, history, pride, and how, despite countless barriers, we are inescapably similar.
For more pictures by Jia Han Dong and his Cuba adventure, check out our Facebook photo gallery here.***
To learn more about our Discover Cuba: Its People and Culture click here.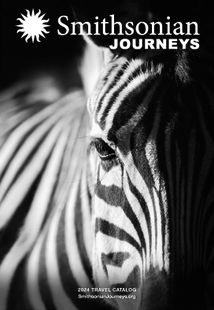 Request a Free Catalog
Download now to find inspiration for your next journey
Get It Free!
Be the First to Know
Sign up to learn more about our tours and special offers
Sign Up