Adventures in Australia and New Zealand
---
Australia and the tropical coast were a welcome treat for Smithsonian travelers escaping from winter's grasp in America this February. We snorkeled on the Great Barrier Reef and rode the old train up through the mountains to the rainforest town of Kuranda and walked the Esplanade on the edge of the town.
The great Red Center of Australia was also hot and the views of the Olgas (Kata Tjuta) and the great Ayer's Rock (Uluru) made each day and each outing quite wonderful. The sunset on Uluru was very nice and the morning views of Kata Tjuta were glorious.
The Opera House in Sydney is the location of innovation, a human soap opera, and the pride of Sydney-siders. The tour of the facility is always a highlight of the tour and the engineering feats and the stories of those involved in designing, planning, and building the opera house are touchingly human.
New Zealand provided a green counterpoint to Australia's browns. Mount was a cool destination in many ways. The change from the sunburnt plains of Australia to the glaciated and snow-covered mountains of New Zealand made for a mind-boggling day. The trip to Doubtful Sound, a fjord on the southwestern side of New Zealand's South Island, was quite wonderful. We had bottle-nosed dolphins, southern fur seals, and Buller's albatross providing a sense of wonder and remoteness as we traveled the inundated edges of the rocky glaciated canyons, now covered with hardy southern beech forests (Nothofagus).
Three Smithsonian travelers bungy jumped at A. J. Hackett's famous bridge near Queenstown. We had airplane fliers, boat riders, bridge jumpers, gondola riders, and zip line aficionados as well!
Our last group outing was through the Ruakuri Cave; an intricate, large, active cave with a remarkable entrance and internal walkway. The access is down a spiral staircase attached to the side of a large silo.  From the bottom you enter the cave system through an air lock that helps control the inflow of air and allows the cave to maintain its humidity and temperature. The entrance alone is worth the visit. A river still runs through the bottom of the cave, and was occasionally heard in the depths as we passed along the walkway.
Another great meal was served to us in Auckland as we gathered for a final evening. This is the time when we look at pictures, remember, reminisce, and appreciate the trip as a whole. This Smithsonian journey down under is packed with adventure and excitement, and is a truly unforgettable experience.  See below for three more pictures highlighting our spectacular trip.
***
To learn more about our Splendors of Australia and New Zealand trip click here.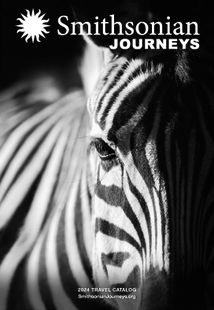 Request a Free Catalog
Download now to find inspiration for your next journey
Get It Free!
Be the First to Know
Sign up to learn more about our tours and special offers
Sign Up