Exploring Kalakho
---
Midway through our Mystical India journey, after our exciting stay at the tiger reserve in Ranthambhor, we set our sights on our next destination, the Dera Lake View Retreat in Kalakho. We were all looking forward to it, and the drive was picturesque, as we travelled through small hamlets and large stretches of green wheat fields.
We passed men, women, and children doing their morning chores, brushing their teeth with the neem tree twig, giving fodder to the cattle, and preparing breakfast in the open courtyard on little stoves made of clay and cow dung. Older men and women were seen with their hookahs, as their daughters-in-law prepared breakfast. They all seemed busy but were excited to see our coach pass by, and they waved happily at us. Their laughter and energy were delightful.
We drove past a morning vegetable bazaar bustling with activity, and saw people driving their locally made vehicles, called jugads. We also drove past a medieval fortress, perched on a hilltop, appearing formidable and recalling the bygone age of heroic stories, tragic deaths, poignant sacrifices, unheard valor, and romantic poetry.
Later on, we drove past a bigger village, where our enterprising tour director, Karni Singh, spotted a village movie theater. In no time, we were all out of the coach and Karni was negotiating with the theater manager to screen a Bollywood song for our group. We all went about peeping into the projecting room and the private viewing boxes, and then we enjoyed an impromptu Bollywood song!
At around lunchtime, we reached our breathtaking retreat, Kalakho. Situated in the middle of farmlands and close to a monsoon lake, it is surrounded by mountains on all sides. We disembarked from our coach and were escorted in several jeeps to the beautifully set retreat. After a traditional welcome with marigold garlands and the tika (the red mark of vermillion applied on the forehead), we freshened up in our cozy cottages and went for lunch.
After a superb lunch, we enjoyed a henna session. Henna is traditionally used to decorate the palms and feet of Indian women during weddings or festivals. Then it was time for a very special visit, to a nearby hamlet, on camelback. The camels and camel carts were assembled, and we proceeded to the hamlet through narrow tracks amidst the fields.
The hamlet comprised about ten to twelve houses, with courtyards and a row of adjoining rooms. The children had just returned from school and many of them were still in their uniforms. The families gave us a tour of their beautiful and fascinating village. We saw their homes, their outdoor kitchens, their grinding stones, and hearths, and enjoyed festive dancing and chatting.
After all the merry making, it was time to return to our retreat, where a local troupe had been invited to perform for us. Our visit to the village offered us a warmth and familiarity that remained with us long after we departed.
***
You can read more about our Mystical India tour here.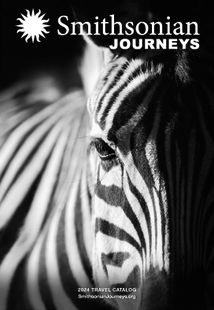 Request a Free Catalog
Download now to find inspiration for your next journey
Get It Free!
Be the First to Know
Sign up to learn more about our tours and special offers
Sign Up