The Vibrant Markets of Turkey
---
I love markets. Souks, Bazaars, Markets, I love them all. You never know what you're going to find, and Turkey is particularly rich in markets of all kinds. From the Spice Bazaar in Istanbul to the village market in Sirince, and everything in between, I am fascinated by the luscious displays of late summer fresh fruits and vegetables, by bins filled with colorful spices, and by arrays of unusual foodstuffs whose original form I can only guess at -- to say nothing of the carpets, child-size harem outfits, and silly wooden animals that presented buying opportunities to members of our group everywhere we went. And who doesn't want to bring home an unusual souvenir or two? Or some mouthwatering Turkish Delight in delicate fruit flavors, studded with chunks of pistachio or hazelnut and rolled in a dusting of ground nuts?
What are these people doing? This lady is rolling out enormous pancakes which she will spread with all kinds of fillings—not at all the crepes you are used to. That boy is extracting hazelnuts from the tangle of foliage that grows around them—who knew they grew that way? And where is our group?  In Istanbul, oohing and ahhing at the fabulous Spice Market; or, after a delicious home-made lunch in the house of Demetrios at Sirince, outside of Ephesus, they visit his shop, or is it his cousin's? They move on, to examine the local felt and lace handicrafts.  And where's my husband Steve? Looking at one last kilim in Kaymakli, Cappadocia, near the end of our trip, of course. I love markets!
***
Read more about Smithsonian Journeys' Legendary Turkey and the Turquoise Coast tour here.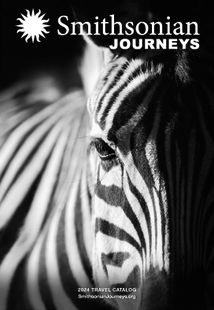 Request a Free Catalog
Download now to find inspiration for your next journey
Get It Free!
Be the First to Know
Sign up to learn more about our tours and special offers
Sign Up