Beyond Machu Picchu - Two Places in Peru You Should Add to Your List
---
When our group met together for the first time at our Lima hotel, along with discussing various logistical matters, we focused on introductions and expectations. Not surprisingly, when asked why they had come to Peru, almost all of our participants mentioned Machu Picchu – in fact, many said that it was on their longtime "bucket list" and, for several, it was the only Peruvian site that they knew much about. At the end of the trip, when we met for one last Pisco sour at the Lima airport, the participants were asked what their favorite spot was among the many interesting places that we had visited. Not surprisingly, Machu Picchu was mentioned by several people, but many travelers cited other special experiences as well.
For example, we visited the town of Ollantaytambo, which has been named a UNESCO World Heritage site for its traditional architecture and nearby Inca ruins. My god-daughter's family lives in this town and we were able to spend almost an hour with her family, who live in a house that dates back to pre-Hispanic times. It is constructed of stone with a thatched roof and has guinea pigs (raised for food) scampering around the floor. We met several members of the family and saw many of the tools used by local agriculturalists as well as the other artifacts of their daily lives. This glimpse into a more traditional way of life was cited as a trip highlight by several of our travelers.
Another highlight mentioned was travelling from Puno by boat to see the floating reed islands on Lake Titicaca. After visiting one island, we were able to stop at a second island, Tupiri, where a young Uro woman, Amalia Suana, has set up a preschool for Uro children ages three to five. These children sang to our group in their native language, Aymara, as well as in Spanish and English. We toured the school and saw the fantastic job that Amalia is doing with these children (incidentally, she has received a national award last year for her work at her school).
Finally, before leaving Puno, we visited the local fruit and vegetable market.  Although we had previously stopped at several markets that were primarily aimed at tourists (with lots of native handicrafts for sale), this time we were seeing where the local people shop on a daily basis. The assortment of fruits, vegetables, fish, and meat (plus staples such as toilet paper, soap, rope, etc.) was impressive.
It has been my experience on previous trips that it is often the unexpected serendipitous moment that sticks in the minds of tour participants, and these three places certainly were highlights for everyone on this Smithsonian journey.
***
For more pictures from Dr. James Kus, visit our Smithsonian Journeys Facebook page and learn more about our Legendary Peru tour here.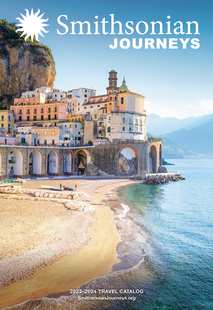 Request a Free Catalog
Download now to find inspiration for your next journey
Get It Free!
Be the First to Know
Sign up to learn more about our tours and special offers
Sign Up