Enchanting Iguazú Falls
---
Many will remember the falls from "The Mission," with Jeremy Irons and Robert DeNiro, which chronicles the removal of the Jesuits from the region in the seventeenth century. Others may have seen nature programs about the swifts that live among the falls. Whatever your inspiration, Iguazú Falls – like Machu Picchu in Perú – usually exceeds even the loftiest of expectations.
The experience is now enhanced by a network of walkways along and over the falls on the Argentine side, including one that leads to the "Boca del Diablo" ("Devils Throat"), where the volume of water and the noise it makes are impressive. It's also enhanced by the presence of coatíes (raccoon-like animals) and fantastic birds, including the macaw and blue-and-yellow urraca. At the end of the day, as the sun goes down, the sound of the falls and the animals make Iguazú a very special place, and one you'll remember fondly.

***
Read more about Smithsonian Journeys' Patagonian Explorer tour here
.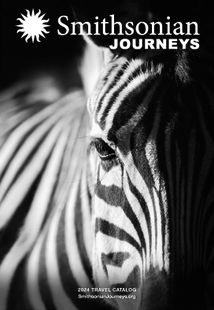 Request a Free Catalog
Download now to find inspiration for your next journey
Get It Free!
Be the First to Know
Sign up to learn more about our tours and special offers
Sign Up