From Toulouse to Sarlat
---
After a copious breakfast at our hotel in Toulouse early Sunday morning, we board the bus, leaving La Ville Rose, the "Pink City," along almost deserted streets.  Our trip today will take us to Sarlat, one of the principal cities of the Perigord, but first we will share some unforgettable experiences in the "Red City" of Albi, from which the Medieval Albigensian Crusade took its name.
In Albi's main square two imposing structures await, the Cathedral of Ste. Cecile, a UNESCO World Heritage Site, and the Archbishop's Palace, which has been transformed into the Toulouse- Lautrec museum.
At first sight, the Cathedral, made entirely of brick and mortar, looks more like a fortress than a church, reminding us of its origin as a statement of the Catholic Church's power, a symbol of overwhelming force in face of the Cathars who had challenged the legitimacy of the Roman Catholic Church and its clergy.  Then, upon entry to the cathedral, what a surprise awaits us: one of the most extraordinary churches that one could hope to see.  Not only is the nave divided by a beautifully sculpted Jube (rood screen), separating the lay people from the clergy in their chancel, as was common in the Medieval period, but the walls and ceilings are covered with remarkable paintings.  Below the organ, a fresco of the Last Judgment stretches behind the altar, painted by Flemish artists in 15th century Italian Renaissance style.
The Toulouse-Lautrec museum has been renovated recently and provides a wonderful setting for the paintings of this outstanding French painter who was born in the town of Albi, and whose wealthy, aristocratic family had extensive holdings in the surrounding countryside.  The collection includes some of the painter's earliest drawings and paintings and features his pioneering poster art, as well as lithographs, pastels and paintings from each stage of his development as an artist.  Particularly appealing are some of his finest portraits, his paintings of horses and other animals, and his especially sensitive treatment of the women of the "comfort houses" of Montmartre in Paris.
The building that houses the Toulouse-Lautrec collection, formerly the Archbishop's Palace, is a work of art in its own right, and the palace gardens offer a backdrop for gorgeous views over the Tarn River.
As we leave Albi behind, we follow a small, picturesque road through the countryside of southwestern France, passing the beautiful hillside town of Cordes, perched high above the valley of the Tarn. We make our way toward the Perigord and an early evening arrival in Sarlat.

***
Read more about Smithsonian Journeys' France Through the Ages tour here
.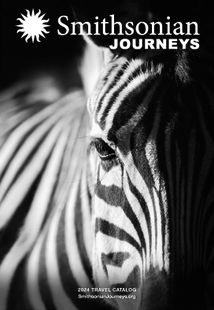 Request a Free Catalog
Download now to find inspiration for your next journey
Get It Free!
Be the First to Know
Sign up to learn more about our tours and special offers
Sign Up