Sailing into the History of Turkey's Beautiful Coast
---
As the Smithsonian Study Leader on the April 2012 Legendary Turkey program, I was thrilled to meet another fascinating group of Smithsonian travelers who had worked in such varied fields as nursing, education, medicine, law, geology, physics, neuropsychology, computer science and epidemiology. It is not every day that I have the opportunity to travel around the ancient Aegean and Mediterranean coasts with people who are so interesting in their own rights and also who are so interested in learning more about the history, archaeology and modern culture of the region. The variety in the Smithsonian travelers' experience lent itself to stimulating questions and really deep and fascinating discussions, both on-site and during afternoons we spent relaxing on the gulets, beautiful Turkish wooden boats.
For example, as one travels down the western coast of Turkey and learns more about Greco-Roman antiquity, one cannot help but think of all the influential people that have come from this region who have influenced the later development of fields like philosophy, art, religion, history, and medicine. As a group, we talked and learned about Heracleitus, St. Paul, Galen and the Pergamene School of ancient sculpture. But as we considered all the great strands of these movements that either started or were influenced by ancient people from the west coast of the Aegean, we found ourselves concentrating on Herodotus, the so-called "Father of History," who came from ancient Halicarnassos, now modern Bodrum, on the southwestern Turkish coast.  Having just visited the site of ancient Troy, our group was particularly fascinated by how Herodotus explains the origins of the Trojan War and why the Greeks sent a huge fleet against Troy in the second millennium BCE.
In the opening section of his History, Herodotus gives a different version of the war's beginning than the usual story of the Judgment of Paris. For Herodotus, there are no goddesses involved; Aphrodite is not an anthropomorphized deity descending to earth from Olympus to make trouble with the humans. In Herodotus' version, Paris, the prince of Troy, steals Helen from Sparta because other men had been stealing women throughout the Aegean and had not been punished for it. So, Paris figured that he too could get away with stealing himself a wife, and so he went to Sparta and carried Helen away. At least this is how Herodotus explains it. Our group talked about this story for quite some time, and we concluded that by taking the gods out of the narrative, Herodotus could indeed be rightly called the "Father of History," as he attempted to reconcile a mythical story with a war that was thought to have happened seven-hundred years before his time. One of the best parts: We were having this discussion about Herodotus on the deck of a beautiful gulet, over a glass of wine and with the warm Aegean sun on our backs!
***
Read more about Smithsonian Journeys' Legendary Turkey and the Turquoise Coast tour here.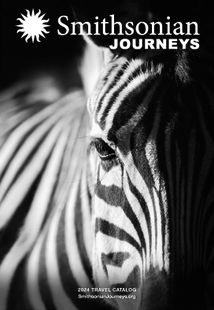 Request a Free Catalog
Download now to find inspiration for your next journey
Get It Free!
Be the First to Know
Sign up to learn more about our tours and special offers
Sign Up