A Recipe for Harira that Brings You Straight to Spain
---
One of the highlights of Paradores and Pousadas was a visit to Don Diego's olive farm near Ronda. Upon arrival, we were greeted by our charming, witty, and knowledgeable host and invited into his home for a tapas lunch.  But in addition to the various tapas, Don Diego offered us a delicious Sephardic soup of Moroccan origin called harira. I loved the blend of flavors—exotic spices, earthy legumes, fresh herbs, small bits of meat.  Here at home, I've been researching recipes for harira and experimenting in my own kitchen. The recipe that follows is a close as I've come—for now—to replicating Don Diego's dish.
This zesty, satisfying soup is good anytime, including in warm weather. It is hearty, but not heavy. The fragrant spices are lightened by the fresh cilantro and a touch of lemon juice. Harira has traditional roles as well: as a Moroccan soup of Muslim tradition, it is frequently served in the evening during Ramadan to break the fast, or in the early morning hours prior to a day of fasting. In the Sephardic tradition, harira is often served to break the fast after Yom Kippur.
Harira
Ingredients:
4 oz. dried chickpeas (garbanzos) soaked overnight, OR, 1 ½ cups canned chickpeas, rinsed and drained (15 oz. can)
¾  to 1 lb. lean beef, such as good quality stew meat, OR, ¾ to 1 lb. coarsely ground lean beef
2 tablespoons olive oil
¾ - 1 teaspoon salt
1 teaspoon freshly ground black pepper
1 large onion, chopped small (1 ½ cups)
2 stalks celery, chopped small (1 cup)
2 teaspoon ground cinnamon
2 teaspoons ground ginger
1 teaspoon ground turmeric, or 1 teaspoon saffron threads, ground in mortar and pestle
1 teaspoon freshly grated nutmeg
1 teaspoon ground cumin
1 28-oz. can diced tomatoes with juices
½ cup chopped fresh cilantro, plus 4 or 5 whole sprigs of cilantro
¼ cup broad-leaf parsley (optional)
1 tablespoon fresh lemon juice
4 oz. dried green or brown lentils
½ cup long grain rice
1 ½ quarts rich chicken stock.  If using boxed, use low-sodium, and simmer two 32 oz. cartons until they are reduced to about 6 or 7 cups.
Preparation:
Bring the chicken stock to a boil, then lower heat to medium and reduce it while you prepare the other ingredients.
Pick through the lentils to remove any stones, rinse them and set aside.
Cut the stew meat into small cubes and toss with salt and pepper. Heat the olive oil in a heavy pot, such as a Dutch oven. When oil is almost smoking, add about 1/3 of the meat and brown over medium-high heat, stirring, until cubes are well-browned and meat juice is evaporated. Remove to a covered dish and continue cooking the meat in batches, adding a little more oil if necessary. Set the meat aside.
Add chopped onions and celery to the pan and cook, stirring, until they are softened but not browned. Reduce heat to medium and add cinnamon, ginger, turmeric, nutmeg, and cumin, stirring continually for about 1 minute.  Do not overheat the spices, as it can make them bitter.
Return the meat to the pan and mix well with the vegetables and spices. Add tomatoes with their juices, stirring well over medium-high heat. Throw in 4 or 5 whole sprigs of cilantro. (These will be removed at the end.)
Stir in the chicken stock, the chickpeas, and half of the lentils and bring just to a boil. Cover pot. Reduce heat to medium-low or low, to maintain a gentle simmer. Cook 1 ½ hours. Meat cubes must be very tender and chickpeas cooked, but whole.
Remove the whole cilantro sprigs. Add the rice and the remaining lentils, the lemon juice, and about ¼ cup chopped cilantro. Return soup to a simmer, cover, and cook for 30 minutes.
When the rice and the lentils are cooked, remove lid and adjust seasonings. If you like, refresh the flavors with a little more chopped cilantro, cinnamon, cumin, pepper and parsley, if you are using it. Heat uncovered for a few minutes, and serve!

***
Read more about Smithsonian Journeys' Paradores and Pousadas tour here.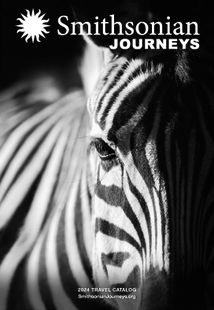 Request a Free Catalog
Download now to find inspiration for your next journey
Get It Free!
Be the First to Know
Sign up to learn more about our tours and special offers
Sign Up