An Unforgettable Snapshot on the Euphrates River
---
The Euphrates River: The name evokes images of the earliest civilizations, mighty ancient powers such as Assyria and Babylonia, and modern Middle Eastern conflicts. And here we were, driving from the town of Gaziantep in southeastern Turkey to the Euphrates River for a boat ride! I had the good fortune of accompanying The Ancient World of Anatolia, a tour of southeastern and central Turkey. As we drove, I craned my head for my first glimpse of the fabled river. Finally, we reached the river, driving along its banks until stopping at a spot where we all boarded a boat. I chose to sit with about half of the group on the boat's roof, for the best view of the river as we made our way upstream.
I thought about how this river provided not only vital drinking water in this arid region, but also served as a main transportation artery for all of the peoples along the hundreds of miles alongside its banks. And I thought about how millennia ago, humans began to utilize the river to irrigate agricultural fields. Thanks to irrigation, farmers were able to produce surplus crops, which led to the rise of specialized crafts and industries, as not everyone had to grow food just to survive. As a result, hierarchical or stratified societies developed—that is, centralized forms of government—and with them, the need for writing to keep official records. All of these thoughts swirled through my mind as we glided along the Euphrates River. Suddenly, I realized this was a "Kodak moment." Everyone agreed, quickly assembling on the roof of the boat for a group photo.
After about an hour, we returned to the dock and disembarked.  I stepped down to the river bank and dipped my hand in, so I could say that I have touched the waters of the Euphrates River. We drove back along the river bank the way we had come, stopping for a delicious Turkish lunch at a restaurant overlooking the water. The meal began with bread served hot out of a traditional oven, followed by a delicious salad of fresh, locally grown vegetables. For the main course, I enjoyed fresh grilled trout; other members of the group chose lamb kebabs or Euphrates fish kebabs. This was one of the many highlights of our tour of southeastern and central Turkey.
Read more about Smithsonian Journeys' Ancient Worlds of Anatolia tour here.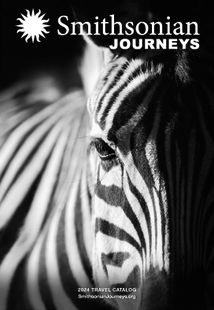 Request a Free Catalog
Download now to find inspiration for your next journey
Get It Free!
Be the First to Know
Sign up to learn more about our tours and special offers
Sign Up