Black and White and Red, Too
---
As we drove toward the Chengdu Research Base of Giant Panda Breeding after arriving in Chengdu from Xi'an and having a quick lunch, we were informed by our Chengdu guide that because it was not too hot the pandas would most likely be outside and possibly even somewhat active, although not necessarily all that easy to photograph.
That proved to be true. Still, we all caught many glimpses of black and white Giant Pandas, not to mention the red raccoon-like Lesser Pandas, and managed to capture a few good snapshots to take home with us.
It was great to hear that the important research work done by experts at this site was now completely resumed after the major earthquake of May 2008, which had damaged so much of this region of China.
 ***
Read more about Smithsonian Journeys' Classic China and Tibet tour here.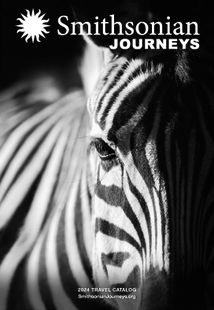 Request a Free Catalog
Download now to find inspiration for your next journey
Get It Free!
Be the First to Know
Sign up to learn more about our tours and special offers
Sign Up