Sampling Exotic Fruits in Costa Rica
---
Poas Volcano, the primary destination for our first day in Costa Rica, is one of several active volcanoes in the country. After a short walk to the caldera rim at 8,740 feet, we descended the mountain and encountered the roadside fruit markets so characteristic of the Costa Rican countryside. A quick stop yielded a basket of plump, sweet strawberries grown in the rich soils on the slopes of the volcano. The strawberries disappeared within a few minutes!
The next day, en route to our hotel at the base of the Arenal Volcano, we again stopped at a roadside market to see and taste fresh tropical fruits. The group recognized many familiar supermarket staples. Even familiar fruits, however, picked locally at the peak of ripeness, provided unexpected taste sensations: pineapples, bananas, mangoes, papayas, and others.
Other fruits were unknown to most on the trip. A refreshing drink from guanabana (soursop) tempted us often over the two week trip, and we sampled the soft flesh of cacao to find the seeds, which are ground to yield chocolate.
Another exotic fruit, the marañón has two distinct segments, a soft apple-like fruit and an appendage that includes the nut we know as a cashew. One can make a jam, a refreshing drink, or ferment the fruit to produce wine. The attached shell contains the cashew nut, but it must be roasted to avoid its naturally toxic content.
Read Jim Karr's second post from the trip, "In Search of the Resplendent Quetzal," and learn more about Smithsonian Journeys' Costa Rica adventure trip here.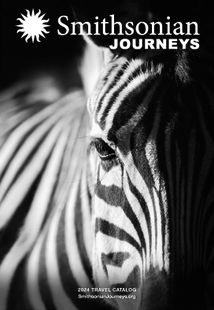 Request a Free Catalog
Download now to find inspiration for your next journey
Get It Free!
Be the First to Know
Sign up to learn more about our tours and special offers
Sign Up