Exploring the Bustling Streets (and Waterways) of Vietnam
---
Throughout our Smithsonian Journeys tour of Vietnam, we witnessed the role of family as the heart of this society. Ancestor worship; weddings, funerals, and reburial ceremonies; preparations to return home to celebrate Tết, the Lunar New Year; and the idea of the country as itself a large, extended family (the word for country, quốc gia, literally means nation-family) – all provide evidence that family imparts a sense of self, identity, and belonging.
It would be misleading, however, to think of this family-centeredness as cloistering Vietnamese in some private world behind the doors and walls of home. Instead, as we walk along streets in Vietnam's largest cities or cruise down its waterways (for, in Halong Bay and the Mekong Delta, water is, after all, a key thoroughfare), we see that the social world of the family spills out of the confines of the home and is intimately connected to the bustling activity of streets and markets. All the more so as Tết approaches.
Our journey begins in Hanoi about two weeks before Tết. Preparations focus on Ông Táo, the Kitchen God. Through his residence in the home, Ông Táo learns all a family's secrets. On the 23rd day of the 12th lunar month, Ông Táo will journey skyward on the back of a carp to give a full account of the year's events to the Jade Emperor. A proper ritual send-off will sway him in making a positive report. Our first full day in Hanoi ends in the Ancient Quarter with an evening walk down Hàng Mã Street, which specializes in votive paper items and decorations that are used in offerings such as those that will soon be made to Ông Táo. Row after row of housefront shops take over the sidewalk with eclectic arrays of red lanterns, dragons (in honor of the upcoming Year of the Dragon), auspicious messages that can be hung on decorative kumquat trees, red and gold lì xì envelopes that will bear small gifts of money for children, and paper replicas of currency, clothing, jewelry, and electronics that will be burned as offerings to the ancestors. The group tentatively weaves through the traffic, as commuters on motorbikes stop on their way home to buy ritual or decorative items. Other residents perch on small stools to enjoy phở (noodle soup) or grilled meat at streetside cafés. Our local guide reminds us that Hanoi's tubehouses – long, narrow multi-storied structures – can be cramped, so both socializing and domestic tasks move out onto the street.
The next day, the group journeys through the drizzle to Ha Long Bay, where we witness a different sort of street life in floating villages formed by groups of boats anchored together. These villages include bank branches so that residents can conveniently exchange the money they receive from Chinese and other foreign fish buyers. We stop at the houseboat of one family, where three generations (grandmother, parents, and children) live in a series of one-room wooden structures linked by planks that surround enclosures for raising grouper or oysters. There is a roofed verandah for work or socializing, a drainage system for collecting rainwater, a generator to power television, lights, and other appliances, and a dog to patrol the entire compound. Both friends and customers can easily stop by.
About a week later in Cần Thơ, we get another view of watery street life. Early one morning, we board a boat at the hotel's dock to travel about 45 minutes to a floating market. For several hours each morning, boats congregate to trade the bounty of the Mekong Delta region. Produce sold here will be transported to markets throughout the country or exported abroad. Every boat has a bamboo pole for hanging samples of its offerings, including pomelo, turnip, star apple, shallots, garlic, scallions, melons, and squash. In the throng of boats, the poles help customers locate what they wish to buy; the hails used in land markets would be futile over the din of boat engines. We disembark to taste local fruit, including the infamous durian, at a floating store and phở restaurant. Back on our boat, a few detours down smaller tributaries yield a closer view of the houses that line the waterways, the narrow wooden monkey bridges that traverse the numerous canals, and the flowering water hyacinths and morning glory that make the scene so memorable, but which also threaten to clog the boat's motor.
In Ho Chi Minh City, a.k.a. Saigon, the pre-1975 name that most residents still prefer, our group gets a different taste of street life. On one of our final days in Vietnam, a few of us venture to a boutique specializing in fair-trade handicrafts. Our excursion takes us through the Tết flower market in the large "September 23rd Park." Families, couples, groups of schoolchildren, and tourists oggle displays of horticultural virtuosity: delicately patterned orchids, exuberant chrysanthemums, lovingly tended bonsai, and giant kumquats. Some plants are shaped like famous Vietnamese landscapes, while others take the form of a dragon in honor of the coming year. Even in a city as large as Saigon, an outing to the Tết flower market can be an occasion to bump into friends and acquaintances. As we get closer to New Year's Eve, families and friends will pile onto their motorbikes to cruise around the downtown area – a chance to see and be seen while taking in the festive atmosphere of this most special time of the Vietnamese year. Although Tết is often described as a family holiday, the preparations for it that we witnessed on streets and waterways throughout the country underscore the intimate links between kin and community and between social and economic life in a country where a sense of cultural heritage is paramount.
Read more about our small group "Discovering Vietnam" trip here.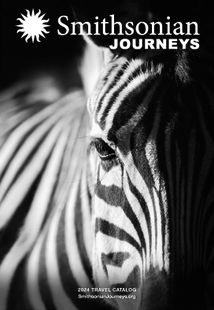 Request a Free Catalog
Download now to find inspiration for your next journey
Get It Free!
Be the First to Know
Sign up to learn more about our tours and special offers
Sign Up