Rushing Waterfalls and Spectacular Vistas: Yosemite in the Spring
---
Yosemite. The very word conjures up many vivid images, thoughts and feelings. Huge, thundering waterfalls, an incomparable valley of sheer
granitic cliffs and domes, groves of giant sequoias, birds, bears and other wildlife.
I have visited Yosemite National Park every year for the last thirty. I never get tired of going there. How could I with so many varied landforms and organisms?
This June, I will be taking another Smithsonian group to Yosemite. Last year, the Sierra experienced one of the greatest accumulations of snow in recorded history. While that made for a great show of waterfalls, deep snow actually prevented us from walking out to some of our destinations. 2012 is just the opposite, a very low year for snow. Don't worry, the waterfalls will still be spectacular, and we'll be able to walk to Sentinel Dome. This is a moderately easy mid-elevation walk through open montane forest of fir, pine, and juniper to spectacular views of Yosemite Valley and the Sierra crest to the east.
With less snow in the mountains all the park's roads will be open. Glacier Point, towering thousands of feet above the cascading waters of Nevada and Vernal Falls, is a place that never fails to impress me. The views are there, but I enjoy sharing the smaller details; spiky seedpods of a Chinquapin bush, the ethereal song of a Hermit Thrush, or even a Sooty Grouse calling from the bough of a majestic Red Fir. Tioga Pass will be open allowing us access to the dramatic alpine zone. Mono Lake lies just to the east in a spectacular sagebrush basin. This is an awesome place that I hope to show our group.
Yosemite is the kind of place that is really more than just the sum of the words describing it. A photograph of a giant Sequoia can never do justice to its size. That's why we'll take a walk through the historic Mariposa Grove. The spirit of John Muir seems to call out from this unique place. Our June visit will be a good time to see the huge white blossoms of azalea here while chickadees, warblers and other birds are in full song.
There is so much to share with participants, but I want you to have your own special experience of Yosemite. It may come on one of our group walks, but you'll also have the opportunity to just sit by the bank of the Merced River and take in this glacially carved landscape on your own. Like most national parks, there are many choices here. We'll guide your explorations, but always allow room for more discoveries.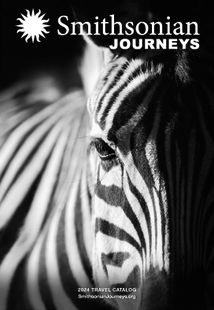 Request a Free Catalog
Download now to find inspiration for your next journey
Get It Free!
Be the First to Know
Sign up to learn more about our tours and special offers
Sign Up