The History of Hoi An, Vietnam
---
Smithsonian Study Leader Mark McLeod is an expert on Vietnamese history since 1802, so Smithsonian Education Manager Sadie McVicker took the opportunity to get his thoughts on Hội-an, a UNESCO World Heritage site.
Q. Hội-an is a World Heritage Site, essentially a living museum of what was one of the most active Southeast Asian seaports of the 15th-19th centuries. Can you tell us something of the long history of its rise to that preeminence? And why it fell out of favor over 200 years ago?

A. 
In addition to the advantages presented by the port itself, the Thu-bồn River system, which has its origins in the Annamite Range and drains into the South China Sea (which Vietnamese call the Biển Đông or Eastern Sea, not wanting to concede China's ownership of it), forms one of Vietnam's largest river basins, which served to link local, regional, and international trade. Furthermore, the surrounding area, roughly comprising the area of modern Quảng-nam province, in addition to natural products such as cinnamon and ginseng, was an artisanal producer of textiles and ceramics, which attracted foreign traders, Asian as well as European.
Evidence from shipwrecks demonstrates that Việt and other Asian ceramics, shipped from Hội-an, traveled at least as far West as Egypt! It is no wonder that 18th-Century Chinese and Japanese merchants considered Hội-an Asia's premier trading destination. However, trade declined from the late 1700s with the Tây-sơn Rebellion and the resulting conflicts that were not settled until the founding of the Nguyễn Dynasty in 1802. After that, for political as well as practical reasons (the mouth of the Thu-bồn River silted up, blocking access to larger ships), the focus of trade shifted southward to Đà-nẵng. This trend has continued to the present, as Đà-nẵng is now Vietnam's third largest port, after the ports of Hồ Chí Minh City and Hải-phòng, whereas Hội-an now survives primarily as a tourist attraction, thanks to the well-preserved architectural structures, museums, and crafting traditions, the value and interest of which have earned it the status of United Nations World Heritage Site. Indeed, Hội-an is one of the most successful examples of preservation of an area of cultural and historical value in contemporary Vietnam. One measure of their success in this regard is the fact that modern filmmakers desiring an unspoiled or colonial-era setting often film at Hội-an. For example, many of the urban scenes of the 2007 Vietnamese-American historical epic The Rebel (directed by Charlie Nguyễn) was shot in Hội-an rather than Hà-nội.
All of this makes the city a treat for travelers, who can visit museums and architectural attractions by day and enjoy tea by the river in the evening, watching the sun go down behind these beautiful buildings. Among the sites of interest, I enjoy the Chùa Cầu, literally the "Bridge Pagoda," but usually called the "Japanese Bridge," which was founded by 17th-Century Japanese traders. It is a "covered bridge" of lacquered wood, very solidly built and well restored over the years. Although it is called a pagoda, it was not devoted to Buddhist worship, but rather to local animistic spirits, with the two entrances being guarded by statues of monkeys and dogs.
Ready to visit Hội-an? Click here to see our journeys to Vietnam.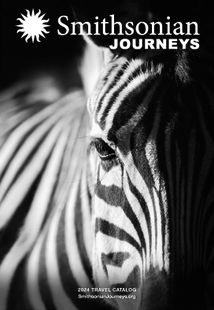 Request a Free Catalog
Download now to find inspiration for your next journey
Get It Free!
Be the First to Know
Sign up to learn more about our tours and special offers
Sign Up