A Costa Rican Adventure
---
Today was our first full day in Costa Rica. The group had breakfast together and it gave us a chance to get to know each other. From our breakfast table we could see numerous brightly colored birds outside as we chatted and got to know each other. Our tour guide, Herman, has been working in Costa Rica for over 30 years. He is a warm, knowledgeable and friendly man and our group immediately took to him. We also immediately bonded with our driver, Marco, who not only was an incredibly safe driver, but personally took the time to help everyone on and off the vehicle every day. He also took a great liking to my personal traveling companion, Evan, my 10-year-old son. Marco and Evan became fast friends on this day.
Our trip for the day was to visit a close by, beautiful volcano, which from the base appeared to be shrouded in clouds. As Herman explained, the weather in Costa Rica changes rapidly, and one minute it could be cloudy with poor visibility, particularly at higher altitudes, while the next minute there could b excellent visibility. The bus dropped us off just a short distance from the crater's edge, but at the high altitude the short hike to the rim created an excellent way to get our hearts pumping. Herman showed us plants along the way and pointed out various biological and volcanic features. When we arrived at the rim, the clouds had moved in and we were not able to see the rim of the crater. Although we were somewhat disappointed, in the end, we all appreciated the beautiful walk and the early morning exercise. It was the perfect way to start our trip.
Our next adventure was a visit to a coffee farm. During this trip we learned everything you every wanted to know about coffee. We learned about the types of beans used (arabica only in Costa Rica), how the plants are cared for, when the seeds are collected and how they are first separated into different grades based upon several factors, including size, we were able to observe the drying and roasting process, and the tour ended with a taste test and an opportunity to buy samples as souvenirs. Evan was able to take part in the coffee bean drying process while the rest of us were able to relax and taste the coffee samples. This was a big hit with the coffee drinkers in the group. The plantation also had a butterfly garden through which we walked prior to resuming our journey.
Click here for more on travel to Costa Rica and here for more about Costa Rica on the Journeys Blog.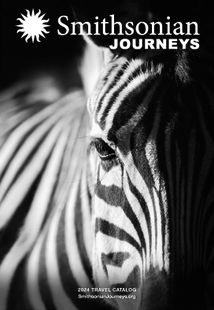 Request a Free Catalog
Download now to find inspiration for your next journey
Get It Free!
Be the First to Know
Sign up to learn more about our tours and special offers
Sign Up