The Sacred Valley of the Incas
---
Travel in the Andes is filled with the unexpected; it is common for travelers to Peru to enjoy chance encounters with local peoples in village fiestas and celebrations. In Smithsonian's most recent journey to the Andes, one such encounter occurred in the high mountains overlooking the Sacred Valley of the Incas.
The warm sun brightened the hilltops as our bus drove the circuitous route from Cuzco, the ancient capital of the Incas, to the fertile mountain valley where the Inca emperors had built their pleasure palaces. When our driver pulled the bus into an overlook so we could view the adobe houses with red tile roofs and the green fields of corn below, we noticed a local Indian festival near us. Bright pink and purple skirts swirling, Peruvian women danced with male partners around a tree that had been placed in a hole in the ground. Tied to the branches were balloons, candies and gifts.
Before we knew what was happening, the male dancers came up to the women in our group, politely asking us if we wished to join the dance. Soon I found myself dancing rhythmically around the tree with a local Indian man. He then brought me over to the tree and indicated that I was to strike it with an ax, after which I was offered freshly brewed corn beer to drink. The tree toppled to the strokes of the next person to strike it, and after it fell, everyone ran over to partake in the gifts and sweets that were tied to the branches. My dancing partner explained to me that this was the traditional way for the village to celebrate its anniversary, and thanked me for being part of the festivities. As we climbed back into the bus, all of us felt that we had experienced something special, something that brought us closer to the world of the Andes.
Explore Peru with Smithsonian Journeys.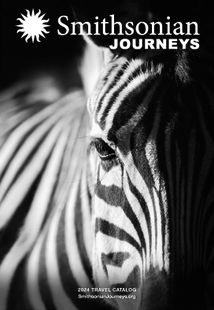 Request a Free Catalog
Download now to find inspiration for your next journey
Get It Free!
Be the First to Know
Sign up to learn more about our tours and special offers
Sign Up