Book of the Week - The Civil War, A Visual History
---

Our book partner, Longitude books is always searching for new books to inspire and inform your travels.
This week's recommendation is The Civil War, A Visual History, edited by Jemi Dunne.
Published to mark the 150th anniversary of the start of the Civil War, this enticing illustrated survey draws on the unparalleled collections of the Smithsonian Institution, giving insight into 1860s America, battles and troops on both side of the divide. This book is a definitive visual history and includes detailed timelines, revealing first-person accounts, and discussion of other topics, including medical treatment, transportation, and the economy.
To honor the 150th anniversary of the Civil War, Smithsonian Journeys has created  several tours that enable you to experience this defining moment in American history in a unique, immersive way.
Please don't forget to click here to see all the Smithsonian is doing to commemorate the Sesquicentennial of the Civil War.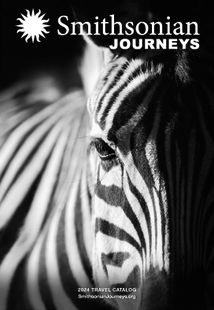 Request a Free Catalog
Download now to find inspiration for your next journey
Get It Free!
Be the First to Know
Sign up to learn more about our tours and special offers
Sign Up