Q&A on Small Ship Cruising
---
Nancy Blount is President of Blount Small Ship Adventures, one of our esteemed travel partners specializing in small ship cruising, talks with Smithsonian Journeys staff member MaryBeth Mullen about several cruises scheduled for 2012.  We look forward to welcoming you on a Smithsonian Small Ship Adventure in the near future.
Q.     Nancy, your family has been in the cruise business for a very long time.  You must have some pretty wonderful memories of time spent aboard your ships.  How many ships do you operate and how are they different from other ships in the marketplace?

A.     Our family has been in the cruise industry for 45 years but also in the shipbuilding/operating business since 1949…62 years! We have many fond memories of our family vacations onboard a variety of cruising vessels as well as a lot of summer time fun spent swordfishing with my Dad off of Block Island. We currently have three vessels in our fleet. Our vessels are built to enable our passengers to experience things you can't on a big cruise ship. Things like navigating narrow rivers and canals, or bow landing on remote beaches. Our amazing small ships are specially designed to take you closer to the places and people often out of reach.
Q.    What are some of the most popular destinations?
A.    This is a great question but the answer is also a moving target and changes with the seasons. Currently our more popular destinations include Belize, New Orleans to Chattanooga and Lake Michigan, all destinations that Smithsonian travelers can explore this coming year.
Q.     Can you describe the accommodations and amenities aboard your ships?  
A.     Blount ships have never stopped evolving.  Through the years, we've added many features and refurbished the décor. But one thing has stayed the same - a dedication to a casual cruising experience. There's no white glove dining service, no formal attire, and no luxurious staterooms. But there is a 180-degree vista-view lounge —the ideal place to get to know your fellow passengers as glorious, scenic landscapes unfold before you. Go upstairs, and you'll find the upper deck, the perfect place to catch a breathtaking view, or catch a few rays.
When it comes time for a good night's sleep, our ships offer four categories of small-ship cruising cabins. Each feature individual air conditioning, which continuously brings fresh air into your room, day and night. Your room also features a private shower and washrooms, and a fresh, smoke-free environment. Add the refurbished staterooms onboard our Grande class ships and you get a casual, relaxing, welcoming place to end the day.
It's all a part of what makes cruising on a Blount ship so amazing. The kind of innovations that make adventure possible, open up new places to exploration, and make your journey as comfortable as possible.

Q.     How are meals handled?  Do guests get to choose who they dine with?  What is the cuisine like?
A.    Single -sitting meals with an open seating policy allows you the freedom to meet many traveling companions. With a maximum of 96 passengers aboard, you can meet and dine with nearly everyone over the course of your trip.  Our chef-prepared meals are delicious, healthy, and often reflective of the region in which you are traveling.
Q.     Will there be Smithsonian study leaders and tour managers to handle logistics aboard each cruise?
A.     Yes, there will be Smithsonian study leader and a Blount Small Ship Adventures Cruise Director onboard to handle logistics aboard each cruise.
Q.     On average, how many ports are visited throughout a cruise?  Essentially, how active are these trips? 
A.     There is no "average" number of ports visited on a cruise as "ports" visited are determined by length of itinerary and distance traveled.  We have a variety of activities available for our passengers to participate in and our passengers can pick all or none depending on what level of activity appeals to them.  There are rental bikes and kayaks onboard most cruises; other programming options may include photography workshops as well as naturalists and lecturers. On our Caribbean itineraries we also have snorkeling, swimming and the glass bottom boat.
Q.     Where are you traveling this year?  Do you have a favorite destination?
A.     I will be traveling to the Caribbean this winter on our Caribbean Spectacular: St. Maarten to Antigua.  Last year it was the Virgin Islands and the year before Belize! I try to get aboard different itineraries every year but I have to admit that one of my absolute favorites is the Best of Belize and the Barrier Reef.  I am an avid snorkeler and the Barrier Reef provides superb snorkeling…the itinerary is also a wonderful mix of water sports (snorkeling, swimming, kayaking) as well as a splash of cultural mixed in. I always learn something new on the trips to the Mayan ruins of Quirigua in Guatemala as well as Xunantunich and the fabulous Belize Zoo.
Click for more information on our small ship expeditions.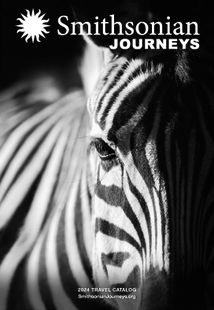 Request a Free Catalog
Download now to find inspiration for your next journey
Get It Free!
Be the First to Know
Sign up to learn more about our tours and special offers
Sign Up