Small Group Travel with Smithsonian
---
Bruce Epstein is President of Odysseys Unlimited, one of our esteemed travel partners specializing in small group travel, talks with Smithsonian Journeys staff member MaryBeth Mullen about these exciting opportunities.  We look forward to welcoming you on a Smithsonian Small Group tour in the near future.
MaryBeth Mullen: How is small group travel different from other escorted tours?
Bruce Epstein: The small group tours designed for Smithsonian travelers are specifically for groups of just 16 to 24 guests, which enables guests to move about more flexibly and efficiently, enjoy more spontaneous encounters, and experience a degree of freedom and independence not available to travelers on conventional group tours of 35 or 40 participants. We offer the best of both worlds: the value, ease, and comprehensive itinerary of a group tour, and the freedom, flexibility, quality, and service that independent travelers demand, and deserve.  Additionally, our small groups often have the opportunity to stay in small, unique lodgings that offer a remarkable sense of place not generally available with conventional tours.
MBM: What are some of the most popular destinations?
BE: Smithsonian travelers have taken advantage of small group tours to virtually all corners of the globe. While some travel patterns do change over time, especially with the recent happenings in the Middle East and North Africa, some destinations continue to generate strong interest within Smithsonian's circle of travelers.  These include France, Turkey, Spain and Portugal, Peru, China, southern Africa, India, and Scandinavia.
MBM: On Smithsonian trips, there are a team of experts who enrich the travel experience, and a tour director that travelers depend on to handle logistics.  Is this also included on Small Group tours?
BE: Yes – on each small group tour, guests enjoy the benefits of having an expert, experienced tour director as well as a Smithsonian expert. The two work closely together to provide you with a memorable travel experience integrated with great educational elements.
MBM: On average, how many nights are travelers in a location?  Essentially, how active are these trips? 
BE: Each of our tours is custom-designed specifically for small groups, with a balanced mix of traveling, sightseeing, and cultural encounters. We make sure we set aside time for you to explore on your own or simply to relax. Guests are assured of seeing the highlights – and also the unexpected. And because we generally spend at least two nights in most places and in many cases three or four, you'll be able to fully discover destinations, as a traveler, not a tourist.
MBM: With only 16-24 guests, do these trips tend to fill quickly? 
BE: Since no two travelers are alike, the planning process varies among travelers.  Some plan more than a year in advance while some only a few months. However, many of Smithsonian's small group tours do fill fairly quickly so, to have the best chance of garnering preferred travel dates, we recommend an initial reservation at least 8-10 months in advance. 
Ready to go? Click here to see all of our small group tours.
Where do you want to go next?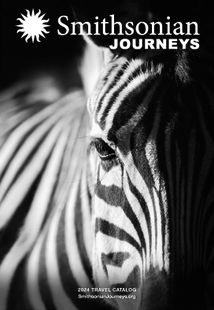 Request a Free Catalog
Download now to find inspiration for your next journey
Get It Free!
Be the First to Know
Sign up to learn more about our tours and special offers
Sign Up