Highlights of Costa Rica
---
As study leader on two trips to Costa Rica with Smithsonian Journeys in March-April of this year, I spent time in one of the most delightful and easily accessible parts of the tropical world. At the end of each trip, I asked each member of the group to name three of the trip's most memorable experiences. Whenever I do this I am impressed by the common themes that emerge, as well as each person's unique perspectives.
Everyone's highlights centered on Costa Rica's well-deserved reputation as a nature tourism destination. People recalled walking in the "awesome diversity" of cloud forest, especially the hanging bridges that take one into and above the forest canopy. They talked about peering into the fuming crater of the Poas Volcano or seeing the smoking cone of the Arenal Volcano at sunrise and sunset. Others were delighted to see legendary birds such as the jewel-like resplendent quetzal, scarlet macaws, and magnificent frigatebirds. During a boat trip along the Tempisque River, we saw herons, egrets, crocodiles, monkeys, and even a large boa in a tree. Daily nature walks on the grounds of our hotels allowed us to see numerous orchids and other flowers as well as tropical butterflies and birds. On top of everything, we feasted on a wide diversity of tropical fruits and delicious local dishes.
Many in our groups appreciated the warmth of the Costa Rican people and the chance to learn about growing and processing coffee before it reaches our coffee cups. Others were delighted to learn about the connections among sugar cane, molasses, and rum; the cultivation of pineapple; vanilla from an orchid; and the odd fruit that provides cashews. We learned about making (and also tasted) a wine from palms and visited a factory that makes delicate, beautiful wood products. We also visited the shop of a local artisan where he creates unique masks and bigger than life-size costumes for local parades and other celebrations.
Others were struck by the geological and topographic diversity of Costa Rica from high mountains to the Pacific Ocean beaches. Some took the opportunity to sit and read in the tropical garden outside their room while others delighted in the Pacific coastline, where they walked the beach or swam or snorkeled in warm ocean waters. Still others had the thrill of a lifetime gliding on ziplines in the cloud forest at Monteverde.
People join Smithsonian Journeys expeditions with their own unique blend of expectations and even fears about what they will encounter. Many have personal bucket lists. But all seemed to find revisiting the trip by recalling their top three memorable events a refreshing reminder of trip experiences. Some even noted that they would change their list as a result of our discussion, because it reminded them of things that hadn't come to mind as they wrote their top three.
Click here for more on James Karr and traveling with him, and here for more on travel to Costa Rica.
What do you love about travel? Please share.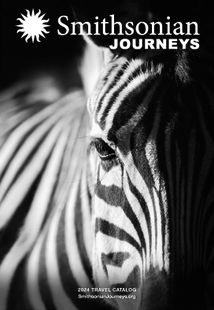 Request a Free Catalog
Download now to find inspiration for your next journey
Get It Free!
Be the First to Know
Sign up to learn more about our tours and special offers
Sign Up