Book of the week - Smithsonian Natural History
---
Our book partner, Longitude Books, is always looking for new top reads for curious traveler.
This week, they've recommended you try Smithsonian Natural History, The Ultimate Visual Guide to Everything on Earth.

Every kingdom of life, from bacteria, plants and animals to the minerals and rocks that make up the Earth is featured in this stunning visual survey, just the thing you need to get you ready for your next Journey out into the world.
With more than 5,000 color images, this book, which celebrates the centennial of the Smithsonian's National Museum of Natural History. The first chapter introduces Earth, its geology and life-forms, followed by in-depth chapters on minerals, rocks, and fossils; microscopic life; plants; fungi; and animals, each with informative descriptions and rich images. Ever wanted to know more about the Mexican red-kneed tarantula? Then this is your book.
Wew have 40 itineraries focused on teaching you more about natural history. Click here to learn more.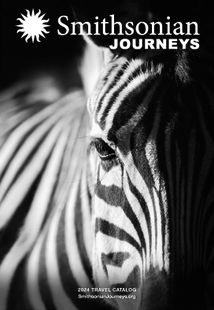 Request a Free Catalog
Download now to find inspiration for your next journey
Get It Free!
Be the First to Know
Sign up to learn more about our tours and special offers
Sign Up