Getting into the Spirit and Attire of India
---
Mystical India! Colorful India! The two walk together, like two best friends. A group of women stand by the roadside attired in rainbow hued saris. Parrot green and bright pink, mustard yellow and navy blue, fiery reds and oranges – a visual cornucopia of colors in combinations never seen before.  Our Smithsonian Journeys bus passes them by, the guests reaching for their cameras and vying for window space to get that one great shot. Colorful India - captured forever, on camera or in the mind's eye.
Since time immemorial, India has been known as a treasure house for richly embellished, fine textiles. This rich diversity is reflected in the myriad costumes worn by both men and women across the country. In fact, very often in the absence of any common language, a person's costume serves as an identity marker, hinting at place, religion, and even marital status.
For guests coming to India on the Mystical India trip, seeing the different clothing worn by men and women as we travel across North India is a fascinating way of exploring the culture and people of this ancient land. Starting from Delhi where one sees a plethora of Indian and Western wear, as we move deeper into the countryside, there are marked differences in dressing styles as people prefer traditional costumes in the rural areas where change is slow.
In Delhi, women wear sarees, salwar-kameez (loose pants with a tunic), churidar-kurta(pants that are gathered at the bottom with a tunic) as well as Western jeans, trousers, skirts, shorts, etc. As we move to Rajasthan, women wear the traditional skirt-tunic called the ghagra-choliwith beautiful diaphanous veils. From Rajasthan as we traverse to the land of the Taj Mahal, the state of Uttar Pradesh and further on to Madhya Pradesh, women are attired in saris while young girls prefer the salwar-kameez. In some villages and towns, young girls can even be seen in jeans. When it comes to men, sadly most Indian men in cities have eschewed the traditional kurta-pyjama (loose tunic and trousers) and the dhoti–achkan (unstitched wrapped garment) and prefer to wear Western style shirts and trousers popularly known as pant- shirt.
One great thing about the Mystical India itinerary is that it explores regions with special textile traditions – Jaipur, famous for its cotton hand-block prints and tie and dye fabrics, Ranthambore with its exotic tribal embroideries, and Agra's zardozi textiles, while Varanasi boasts of an ancient silk brocade tradition. In addition to such wonderful fabrics, practically everywhere there are good tailors who can sew up a storm in a few moments.
Such is the allure of Indian textiles that inevitably Smithsonian travelers get Indian outfits tailored for themselves. Usually women prefer the salwar-kurta or churidar-kurta over the saree which is a little tricky to wear. Male guests usually get kurta-pyjama over the dhoti. We have great fun at the textile stores as we match and mix to come up with unique combinations – if anyone has ever shopped in India for fabrics, they know how bewildering ( and sometimes overwhelming!) it can be to choose from the wide array of textiles available.   And for those who are not getting outfits, there are thousands of scarves and stoles to choose from.
At our Farewell dinners as we gather to say goodbye and give thanks for a great trip, often the guests appear in their colorful and elegant Indian outfits or dress up their western outfits with lovely Indian scarves and stoles. Another round of photographs please! One thing is guaranteed – once the guests get custom tailored Indian outfits, they discover the biggest secret to Indian clothing – how comfortable and forgiving these garments are, and always flattering! The magic of India accompanies Smithsonian travelers home in their suitcases, bringing color and fond memories every time they are worn!
Now is a great time to discover India. Click here to learn more about traveling to India with us.
We love to shop for clothing while we travel - what's the coolest thing you've picked up on the road?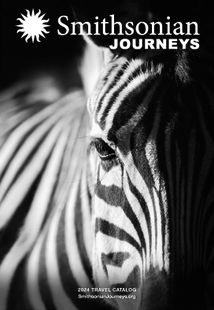 Request a Free Catalog
Download now to find inspiration for your next journey
Get It Free!
Be the First to Know
Sign up to learn more about our tours and special offers
Sign Up