More Q&A with Journeys Director Amy Kotkin
---
Last week, Journeys Director Amy Kotkin answered travelers' questions about top travel destinations for 2012 and where you should go next. This week, she tackles more of your questions about Smithsonian Journeys and travel value.

Q. Is Smithsonian Journeys part of the Smithsonian Institution?  How are they related?
A.
Smithsonian Journeys is very much a part of the
Smithsonian Institution
! As the Institution's travel program, we share the goals of education and outreach with the whole Smithsonian staff. Just as the Smithsonian seeks to share knowledge of the world around us through museum exhibitions, publications and on-line resources, Smithsonian Journeys shares the world through first-hand experience in destinations worldwide with Smithsonian experts! Your participation in Smithsonian Journeys benefits the Institution's myriad activities, helping us preserve our national treasures and shape the future through science, research and exhibitions.
Q.   What does All-Inclusive mean? 
A. That's a good question, because it can mean slightly different things on different trips.  Take our All-Inclusive Mediterranean Cruises, for instance. These are fabulously priced trips that include international air fare, port charges, hotel stays before the tour, on-board gratuities, shore excursions, and wine with dinner each night on board! In essence, 90% of what you need on tour is included. Why not 100%? Because we know that though you are looking for a great deal, you also want to shape your vacation to your own tastes and pace. So, while all morning excursions are included, for example, we leave the afternoons up to you! Explore independently, relax on board in lovely ports, or join an optional afternoon excursion at a modest additional cost. On most of our small group land tours, international airfare is included, all gratuities, most meals (though again, we want to make sure you have time to explore on your own, including finding a great restaurant!) as well as the services of a full-time tour director and study leader. We never want you to pass an envelope at the end of the tour, or feel that you have been "nickel and dimed."
Q.  Why do some tours include roundtrip airfare and others don't?  Can I use my frequent flyer miles? 
We are delighted to offer included airfare on many of our tours, through special arrangements with our travel partners. We provide this feature on as many tours as possible, though included air is not available for all routes. If you'd prefer to use your frequent flier miles, you are always welcome to get a "credit" for unused airfare, resulting in a lower tour price. However, many of our travelers find that the included airfare is so reasonable that they opt for our air packages and save their frequent flier miles for other travel!
Want to learn more? Click here to read last week's Q&A with Amy.
Where do you want to go next? Let us know!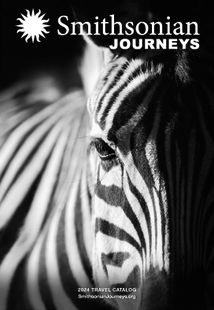 Request a Free Catalog
Download now to find inspiration for your next journey
Get It Free!
Be the First to Know
Sign up to learn more about our tours and special offers
Sign Up