Q&A On Our New Private Departures
---
Our new Private Departures mean that you can go where you want, when you want, with who you want, at your budget. Below, David Tett of Bushtracks Expeditions, one of our esteemed travel partners specializing in customized travel, talks with Smithsonian Journeys staff member MaryBeth Mullen about these exciting opportunities.
Q: For 20 years you and your family have planned custom journeys for the curious traveler to Africa, India, and South America, Alaska, Galapagos, and more destinations off the beaten path. What makes a Private Departure so extraordinary?
 A: Private Departures offer the ability to choose your own dates, control your own itinerary, be independent, and ensure you get the accommodations and destinations that suit you. We're all so increasingly busy these days, it's more difficult than ever to get the family together between business, family, school and sports commitments. Planning your own tour is for many people the best way of navigating through all of these schedule challenges.
Q: On a Private Departure, do travelers get to choose their preferred schedule and budget?  Is it really that flexible?
A: Yes it is! Give us your dates and we'll find out the best available properties that work within your time frame. Of course the more latitude you give us, the better chance we can book exactly what you want. You could potentially even book your international airfare with air miles and let us form an itinerary around those dates you have booked. However, please give us as much time as possible so availability does not become an issue!

 Q: How many people do you need to plan a customized itinerary and are there age limits?
A: Two guests and a minimum 7 consecutive nights travel. There are age limits at certain properties whereas others focus on ensuring younger children are part of the experience and included. We'll help match the right product to you!
Q: On Smithsonian's group departures, a team of experts add educational value to the experience, and a tour manager handles logistics and any problems that might arise. What happens on a Private Departure?
A: We have expert guides who we can work into your itinerary. Also, we and Smithsonian Journeys will be happy to find you a full-time study leader if you wish. You are met and greeted by our select representatives along the way. Our local representatives will be able to handle problems on the spot and we provide all travelers with an after hours emergency phone number so that we can assist you if need be!
Q: How far in advance can you book a Private Departure? Is there travel insurance in the event of cancellation?
A: We have booked itineraries one week out, however, considering possible visa requirements, shots, accommodation and flight availability, the sooner you can book the better. Generally one year is perfectly adequate, six months is nice and three months is possible. Yes, we recommend you take out trip cancellation insurance since the trip can be non-refundable as you approach departure date. We also include emergency evacuation insurance for every traveler as part of your tour fee.
Q: Is a Private Departure more expensive than a group departure?
A: It certainly doesn't have to be more expensive than a group tour. Because the private departure is designed around your specifications we are able to help you manage your budget by choosing from a variety of accommodations, routing, and time of travel.
To reserve your Private Departure, call 1-877-547-1701 or click here for more information.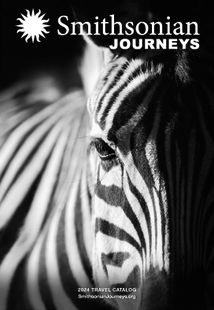 Request a Free Catalog
Download now to find inspiration for your next journey
Get It Free!
Be the First to Know
Sign up to learn more about our tours and special offers
Sign Up