On Patagonia
---
I had seen Cape Horn from ships a number of times in the past, squinting through my binoculars to make out the handful of buildings and monuments. I always wondered what it would be like to step foot on that last little bit of the Americas, and promised myself that one day I would do just that. My hopes were only heightened by documentary films featuring the island (e.g. Captain Irving Johnson's 1929-30 footage), or the written accounts of mariners, including Darwin and Fitzroy.
When at long last I was able to amble up those 67 stairs from sea level to the island's top, and stand before the Albatross Monument erected in the memory of sailors who never made it home, I felt a real sense of joy and accomplishment. Now that I've done the landing twice, and gotten the t-shirt, I enjoy seeing our Smithsonian Journeys travelers realize their own ambitions, whether to step on Cape Horn, to walk with penguins on Isla Magdalena, or to follow condors circulating overhead in Torres del Paine National Park. Patagonia, Tierra del Fuego, and Cape Horn are magical places, and only a lucky few get to see them. For me, they are a second home.
Ready for the ultimate adventure? Click here for our tours to Patagonia and here for upcoming tours with Jeff Cole.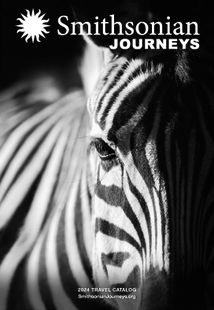 Request a Free Catalog
Download now to find inspiration for your next journey
Get It Free!
Be the First to Know
Sign up to learn more about our tours and special offers
Sign Up