Teaching Moments with Our Kids
---
Every family vacation is an opportunity for parents to show off how much we really know about the world to our kids, right? We all remember dozing off in the back of the station wagon to our own parents' teaching moments. This year, we're introducing  our own teaching moments - including a new Smithsonian Photo Safari, where families with kids aged 9-12 have the opportunity to experience the Smithsonian in a unique way. Families will explore Washington, cameras at the ready, while also learning about photography and darkroom techniques, photo composition and ethics, and getting behind the scenes at the Smithsonian with our photography experts. Among other things, our tour includes a photo excursion to the National Zoo, where we'll be capturing the texture, color, and movement of the animals.Which makes a parent wonder, "What kernels of knowledge will I have to share with my kid?"
To make sure you are prepared to impress, here are some crazy facts you can whip out while exploring the Smithsonian's National Zoological Park.
1. Bats can eat up to 3,000 insects in one night! They are also the only mammal that can truly fly.
2. A large python can grow up to 20 feet long and can eat a goat whole. Plus, the females are usually bigger than the males.
3. There are some species of frogs that can glide up to 50 feet through the air. Other frogs, like the Poison Dart Frog, have toxins in their skins that can kill it's predators, including small mammals and even humans.
4. It is difficult to distinguish a tiger from a lion without its fur, but the tiger is the only cat with striped fur.
5. Some hummingbirds are so tiny, they weigh less than a penny.
If you'd like to share your photography addiction with your kids (or your kids are addicted already), check out this summer's Smithsonian Photo Safari in Washington, D.C.
What's your favorite quirky animal fact? Please share.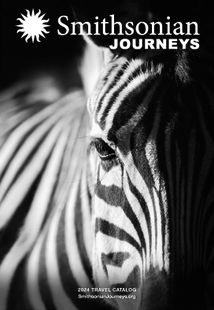 Request a Free Catalog
Download now to find inspiration for your next journey
Get It Free!
Be the First to Know
Sign up to learn more about our tours and special offers
Sign Up